Talk about a wild ride!
With Thorsen shot and mid-Wilshire under attack, our TV Fanatics, Denis, Jasmine, and Christine, have a lot to talk about when it comes to The Rookie Season 5 Episode 22.
What were their favorite moments, couples, and action sequence? Read on to find out. And make sure to take the poll down below!
Thorsen's life hangs in the balance after the attack on him and Celina. Do you think there's any chance he won't survive?
Denis: The Rookie never kills off characters aimlessly. In fact, they do the opposite. They keep them around for as long as possible. Based on some character development Thorsen has seen through the season, killing him now wouldn't make sense.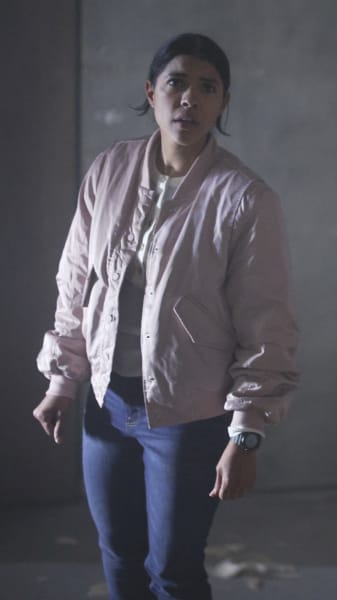 Jasmine: I don't think they'll kill him off because it's too similar to Jackson dying, and he's literally Jackson's replacement. It would feel like overkill and unnecessary. But it did the trick of rallying the troops and bringing the emotion.
I feel this could be used as an arc for him as he recovers and has to grapple with some new challenges. We can get the more serious side of him and also get some interesting development with his and Celina's friendship since he's become her "person."
Christine: He better survive! But killing off Captain Zoe Anderson in The Rookie Season 1 told viewers that no one is safe.
As Jasmine mentioned, Jackson was killed, and Thorsen was his replacement, so I can't imagine they'd kill him too. But that cliffhanger definitely left us hanging on until The Rookie Season 6 to find out.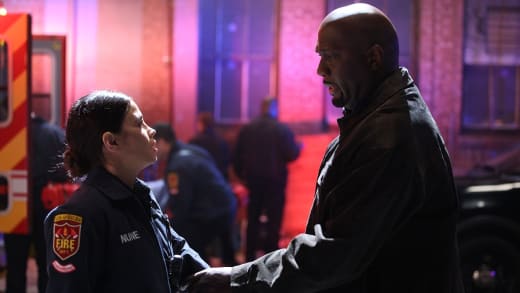 What do you think this new Big Bad is trying to distract the LAPD from?
Denis: Probably a heist. It's hard to guess because bad guys can conjure up something new from nowhere.
Jasmine: I have no idea. It feels like way too much chaos for something trivial. I honestly feel like this is a setup for a crossover premiere with The Rookie Feds because this was so organized and huge that they'd need more than the cops on this.
Christine: It's got to be either a terrorist attack or a massive heist. I'm hoping for a heist, as I'd find that more entertaining. But that all of this was orchestrated to hide something even bigger was a great twist.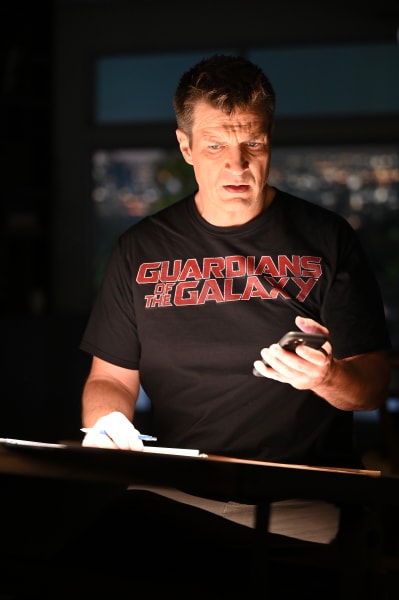 What was the scariest part of this episode?
Denis: That opener was not fun at all. Dark alleys and guys with bizarre masks? What's not to be afraid of?
Jasmine: Yeah, I'm at a cross between the dark alleyway action with Celina and Thorsen and Chenford combating the squad of masked perps using SWAT tactics. In some ways, the Cheford bit was scary because those folks didn't seem to care if they killed them or not.
Christine: All of the above. Those masks made everything horrifying, but I'm going to go with Nyla's baby being taken from their house. That is the worst nightmare for any parent. I'm just grateful they didn't make it last long because I don't think I could have taken that.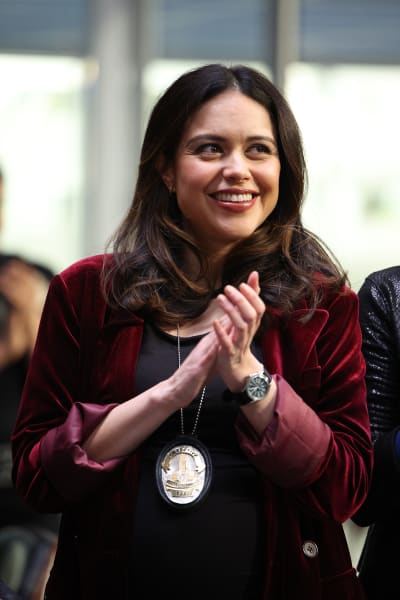 Any idea what Angela and Wesley will name their baby girl?
Denis: Probably something starting with J? That's what I would do.
Jasmine: I mean, J's names are pretty great. Most of my family are J's. Good times.
I didn't even realize they didn't name her. I think it would be rather cute if they actually did name their kid Erin because of Thorsen.
Christine: Maybe not straight on Aaron or Erin, but a nod to it. Like Arilina or Erilina, which means "noblewoman" or "warrior," or how about Nora (sort of Aaron backward), which means "light." I can just hear Angela calling for Jack and Ari.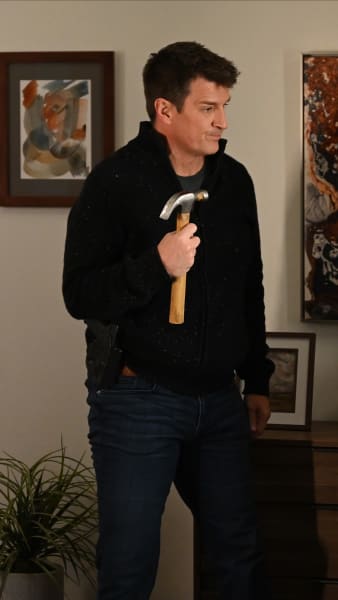 How would you grade this season finale from A to F?
Denis: An A. It was engaging throughout but didn't do anything to progress character-driven storylines. There was a lot of action, which left no room for anything else.
Jasmine: Oh, I love it, and it was A quality for me. I love action, and the episode had me hooked from the very beginning until the end.
I was thrilled to have so much action, and I didn't really mind the shift from personal arcs because there wasn't too much they could have resolved in one hour anyway.
I also liked that we got a cliffhanger but not one that would have me too worked up about until the show returns.
Christine: Definitely an A. The action and peril had me on the edge of my seat throughout the hour. And they gave us lots of little moments between the couples. I was happy with the personal side too.
Now it's your turn, TV Fanatics. How do you rate The Rookie Season 5 Finale?
Was there anything in this episode that disappointed you?
Denis: I would have rested easy knowing where Tim and Lucy stand. I also would have loved to see Bailey and Nolan's wedding.
Jasmine: Not really. Maybe a tad more clarity on the Big Bad would've been great. But I was pretty content.
Christine: Not a thing. We saw all the couples together, plus lots of action. What more could you ask for?
Although I will question one thing; Celina being able to recite that riddle. I'm certain I couldn't have remembered that nonsense nonconcussed.
What was your favorite quote, scene, or storyline from this installment?
Denis: Don't get livid, you guys, but Bailey kicked a**. I love Bailey!
Jasmine: I cannot even get mad, Denis, because she really did! It was one of the rare times when she didn't get on my nerves, and it didn't feel overdone.
I was cheering her and Nolan on the whole time and reveling in the badassery.
But the actual sequence, the camera angles, the music, the choreography, and everything from the Chenford ass-kicking against the group of masked people were made so incredibly well that I wanted to watch it again and again.
The DOP/Cinematographer during this episode absolutely slayed. The director killed it.
Just everyone involved made that entire sequence from the time they came charging down that hall until Nolan saved Chenford thrilling to watch.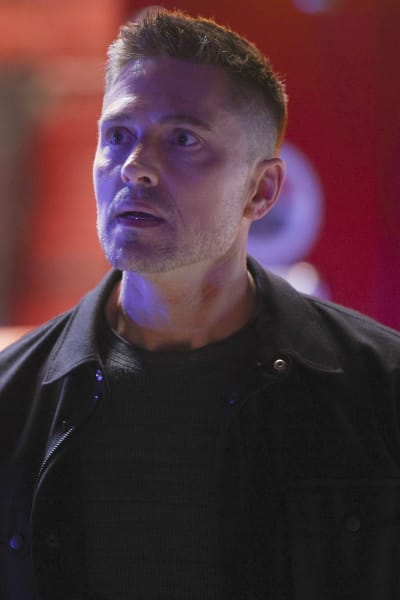 And Harper pulling out the Big Gun and going to town on anyone who got close to Chenford had me so hyped. As an Action Movie aficionado, this episode did it for me.
Christine: How do I pick just one scene or sequence from such an amazing episode? But Chenford fighting a mask-wearing, riot gear-clad horde together is difficult to top.
Who is your favorite couple on The Rookie?
Denis: I'm drawn to Nyla and James. They have such an atypical relationship based on mutual respect and sacrifice.
Jasmine: Typically, I'd give the more popular answer of Chenford because it's been genuinely great to see this series execute this new ship the way that they have while still keeping them THEM elevating their relationship, and not making them boring now that they're together.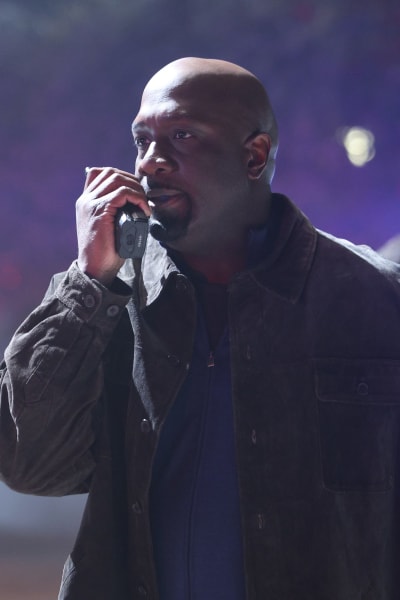 But with this episode, I really have to show some love for Grey and his wife. I think too often with cop shows; they have the wife falls into that common trope of always nagging the husband about his job and just being a killjoy. But Luna is always so great when she's on.
She's so supportive of him and knows how to navigate him through emotional situations. She's brilliant, an asset, and always willing to pitch in, and I love whenever she guest stars and gets to actually bring her own energy as a civilian who helps.
They just balance each other out so well, and as Denis said, they, too, have this relationship built on mutual respect, understanding, and sacrifice.
Christine: Jasmine, you stole my thunder! I love Wade and Luna Grey for all the reasons you listed. And there really isn't a couple I dislike. Nolan and Bailey may not be my favorite, but they are growing on me.
But I have to give a shout-out to Chenford. It's wonderful to see a show commit to a couple, show them realistically, and keep them entertaining. For that, Lucy and Tim are the best.
How would you grade this season overall?
Denis: Season 1 will always be the best, but this one comes close. Maybe it's because I was engaged with it as more than a viewer.
Jasmine: I really enjoyed this season a lot. I feel like they did a great job of balancing the things that make The Rookie so great, all that humor as well as action, personal arcs, and even some dark storytelling.
I loved what they did with Chenford as a ship and how they navigated it, particularly once their significant others were out of the picture.
Angela and Nyla have probably been the scene stealers of the season.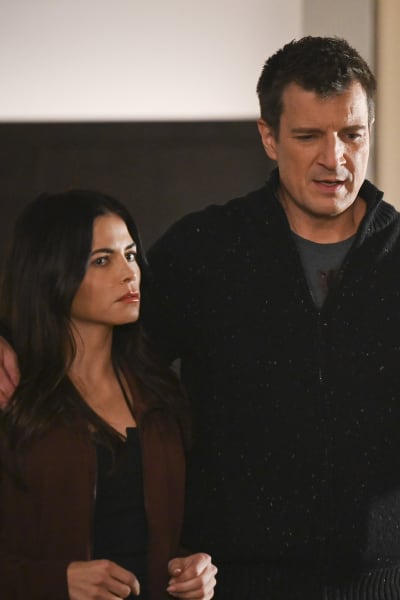 They have done wonders with evolving Celina and Thorsen, and we really needed that.
And Bailey isn't quite as insufferable, I suppose. Even though they still shoehorn her in too much and rely too heavily on her being The Rookie Barbie, with Nolan as just Ken.
I think the Rosalind and Elijah stuff dragged too long, but they may have wrapped things up in that regard which can open the door for new Big Bads. It was a really strong season, and thank goodness this was a great finale because The Rookie Season 4 finale SUCKED.
Christine: Jasmine, I don't even recall last year's finale, which isn't a good sign, is it?
But this season was my favorite overall. Lucy and Tim finally got together as a couple, and the payoff has been spectacular. All of the out couples, personal, and professional relationships are strong. And the action was top-notch.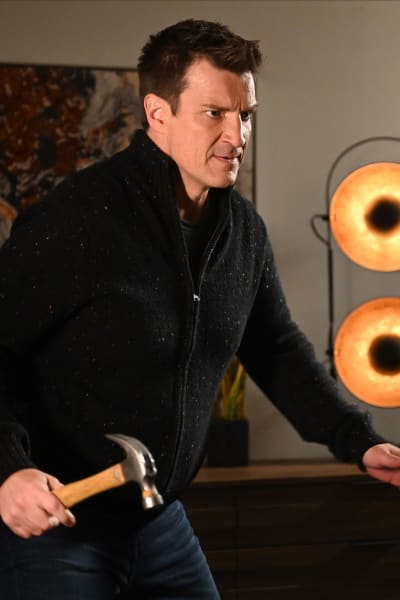 I'm not sure I can ask for better, but hopefully, they'll top it next year.
Now it's your turn, TV Fanatics. Hit that SHOW COMMENTS BUTTON below to tell us how you rated this season finale. Then check out Jasmine's The Rookie Season 5 Episode 22 review.
And don't forget to watch The Rookie online here at TV Fanatic.
C. Orlando is a TV Fanatic Staff Writer. Follow her on Twitter.