Days of Our Lives Spoilers for the Week of 10-09-23: Will A Newly-Aged Tate and Holly Wreak Havoc in Salem?

Jack Ori at . Updated at .
Time flies, and doubly so in Salem.
No one does the rapidly aging into troubled teen soap opera trope better than DAYS, and on Days of Our Lives during the week of 10-09-23 we're getting TWO new teens.
Yep, Tate's back from California, and his first order of business is to fall for a similarly-SORASed Holly Jonas.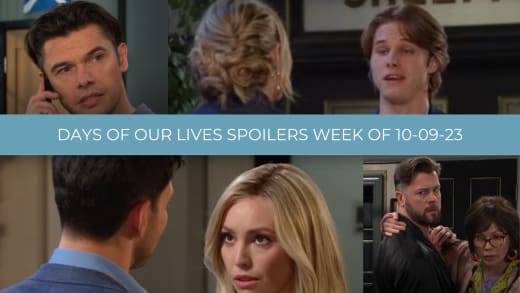 What do these kids learn in boarding school? They always come back with a bad attitude and an eagerness to cause trouble.
Tate's no different, having been expelled for pulling a prank. (Neighbours' Yashvi Rebecchi could have told him a thing or two about that.)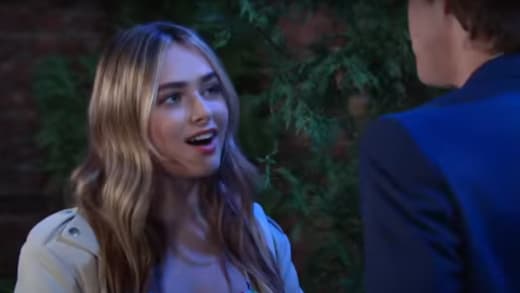 According to the spoiler video, Tate immediately starts crushing on Holly Jonas, and her mother doesn't approve one bit!
Some viewers object to this potential pairing because Nicole and Brady were an item once upon a time and even ran away to Canada with baby Holly in defiance of the law. (That was part of that silly story involving Jennifer Landon, which was a waste of a great actress!)
Only in Salem, right? But it's not the first time -- how long has Brady gone back and forth with Kristen, who changed his diapers when she was dating his father back in the day?
Tate's misbehavior and his general attitude during the spoiler scenes suggets he will be a problem. And little Holly was a snooty, snarky mini-Nicole and might have grown into a wild teen.
Neither Brady or Nicole will want their kids together, which is a surefire recipe for Tate and Holly to become attached at the hip.
But what's happening with Rachel? Brady has been depressed that she's been given to Kristen, and right now would be a good time to strike back. Kristen recently pulled a gun on Dimitri and EJ planned murder-for-hire in the Dimera living room.
This doesn't sound like a safe environment for a child, so Brady should appeal the ridiculous custody decision. But will he forget about Rachel now that he has to deal with Tate's teenage behavior?
This story will also give viewers their first real look at Emily O'Brien as a recast of Theresa. It'll be interesting to compare her spin on the role to Jen Lilley's.
Please scroll down to read all eight Days of Our Lives spoilers for the week of 10-09-23.
Justin is appalled by Alex's behavior.
As well he should be. Maggie is grieving the loss of Victor and is in no place to fight back.
She almost let Vivian take over Titan without a fight and now she's let Alex kick her out of the CEO chair.
Justin didn't like when Maggie fired Alex and he won't like this any better, but Alex won't listen. He's decided that since he's Victor's son, he has to emulate Victor at his worst. Ugh.
Abe reconnects with Nicole while preparing for a date with Paulina.
Yay! Abe Carver has been missing in action for far too long.
According to spoilers, Abe will begin to recover his memories after this conversation with Nicole.
That's great,  but can we please have at least ONE of his dates with Paulina on-screen? Is that too much to ask?
Theresa tries to get Alex to go out with her.
Welcome, Emily O'Brien! Her first storyline in her new role will involve trying to get Alex to go out with her.
This story might make it harder for viewers to stop thinking of her as Gwen, who was a golddigger who would go after the newest Kiriakis heir for his money if she thought she could get away with it.
Some viewers think Theresa messed with the will or the letter, and the short spoiler clip might leave them speculating, as Theresa asks flirtatiously if Alex thinks she's only after his money.
Tate runs into Holly in the park, much to Nicole's chagrin.
Woo hoo! Salem needs new blood, and these two teens are a great beginning.
While I'd hate to lose the little boy who plays Thomas Dimera, aging Charlotte and Thomas would add to the teen scene, and if Chloe comes back from New York with Parker, that would complete the picture.
In the meantime, these two troubled teens might get into the same sort of trouble that JJ Deveraux made legendary. That might be fascinating, considering Theresa's involvement in leading JJ down the wrong path.
Someone crashes Johnny and Chanel's date.
That someone is Holly, according to a spoiler photo in Soap Opera Digest.
She lives there too with Nicole and EJ. Why is she bothering Johnny and Chanel?
Is she bored? Looking for advice? Or is she hoping to snag Johnny (or Chanel!) for herself?
Marlena calls Harris out on his feelings for Ava.
I knew Ava and Harris were headed toward coupledom, but I didn't like it and still don't.
What was the point of Harris' one-off meeting with Eve? A second-chance romance for those two would have been far more compelling than this nonsense.
But let's hope that Marlena is more professional about it than she was about Talia's one-night stand with Shawn. She's supposed to be a neutral observer of human behavior, not Dr. Judgy.
Xander hires Sloan to help him with his custody case.
Why didn't Xander hire Justin? The cousins have made their peace over Xander's involvement in Bonnie's kidnapping.
Or has Sarah already hired Justin? I can't remember.
Sloan is devious and manipulative, but she also wants a baby to hold onto Eric with and just lost one, so how will she use Xander's situation to her advantage?
EJ learns how Susan ended up in London.
There's more to the story and for once, Days of Our Lives is moving full steam ahead instead of dragging the mystery out for six months.
Hopefully, this story will make sense and not be over-the-top.
Edmund didn't hire people to take Susan to him, did he? His out-of-character behavior with this entire story is bad enough without that!
Your turn, Days of Our Lives fanatics. Hit that big, blue SHOW COMMENTS button and let us know your thoughts and theories about these spoilers.
If you're looking to chat about already-aired episodes, check out the latest Days of Our Lives reviews and Days of Our Lives Round Table discussions.
Days of Our Lives streams exclusively on Peacock. New episodes drop on weekday mornings at 6/5c.
Jack Ori is a senior staff writer for TV Fanatic. His debut young adult novel, Reinventing Hannah, is available on Amazon. Follow him on X.