Days of Our Lives Spoilers for the Week of 10-16-23: You'll Never Believe Who Wants a Divorce!

Jack Ori at .
Salem's in for yet another shock.
Days of Our Lives spoilers for the week of 10-16-23 suggest several surprises in store: two returns, one person mysteriously pulling away from his partner... and a surprising person seeking a divorce.
Let's hope that's a pipe dream (or someone's absurd fantasy).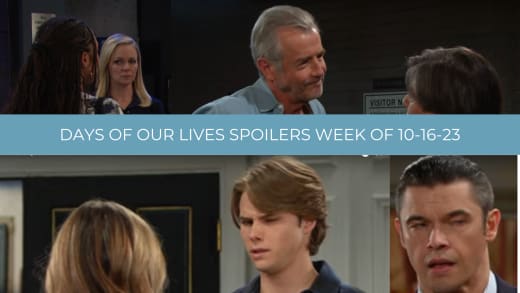 First, the big casting news: Clyde and Lucas are back, at least for a while.
Only in Salem would the guards deal with Orpheus trying to negatively influence Lucas by rooming him with Clyde instead. But according to the spoiler video, Chad has to warn Lucas not to trust the drug-dealing villain with the Southern drawl.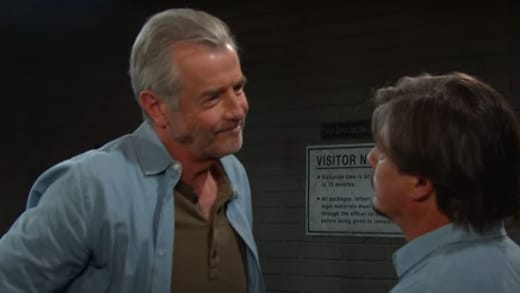 There's no reason for Lucas to give Clyde the time of day. Didn't things get ugly between Clyde and Kate back in the day?
If anything, Lucas should want revenge since Clyde messed with his mother. So, how did these two become so friendly that Chad needs to warn Lucas?
The rest of Clyde's story will be equally irritating; further spoilers say he'll blackmail Ava into helping him with his drug dealing operation by threatening Tripp -- and that'll be a double problem for her because Harris will join the police force.
Am I the only one who is sick of these types of stories? Why can't they ever find anything to do with Ava besides having her bounce back and forth between good and evil, often doing horrible things to protect Tripp's safety?
But the most surprising news is that Abe wants a divorce from Paulina.
Abe's amnesia has gone on long enough; it's time for the real Abe Carver to return.
And it seemed like things were going well between Abe and Paulina, so why does he want a divorce all of a sudden? Hopefully, John will talk him out of this ridiculous idea!
Please scroll down to check out all eight Days of Our Lives spoilers for the week of 10-16-23.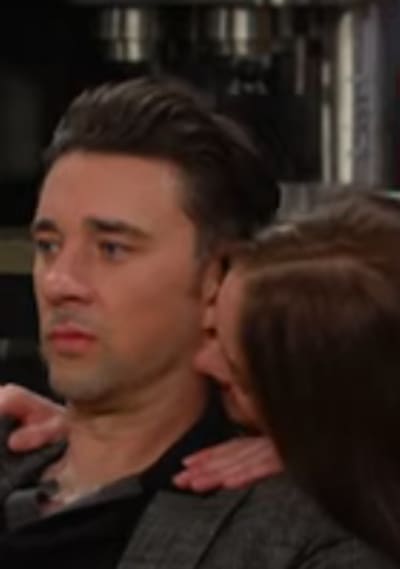 Chad pulls away from Stephanie.
According to spoilers, Chad's having a hard time because it's Abigail's birthday. He won't let Stephanie accompany him to the gravesite and distances himself afterward.
This is a realistic story -- something Days doesn't have nearly enough of -- but something feels off about it.
Maybe it's that Chad could clue Stephanie in on what he's feeling instead of withdrawing from her without explanation, especially since Alex is still next door.
Clyde threatens Ava.
As mentioned earlier, Clyde'll send a goon to attack Tripp, then take responsibility so that Ava will be forced to do his bidding.
Talk about weak blackmail! Ava's new boyfriend is about to be a cop and risked his freedom and life for her before.
So why doesn't Ava tell Harris what's happening instead of giving in? Blackmail is a tired soap opera trope, especially when the characters have other options.
Belle has a warning for Talia.
Belle has become Sami-lite, and it's not enjoyable. Yes, Talia did her wrong, but threatening her is immature and unnecessary.
Is this supposed to make us cheer when Belle leaves Salem?
But first, Talia's the one to exit stage left. If only her abuse storyline had been handled more realistically, I might care, but as it is, I'm not sad that she's going.
Tensions escalate between Leo and Dimitri.
Troublemaker Dimitri isn't about to go to prison without a fight for his future.
He wants Leo to help him escape before that can happen.
Isn't Dimitri a Von Leuschner with a Dimera mother? Surely, he has resources he could rely on rather than whatever ridiculous plan Leo will come up with.
Paulina seeks Marlena's help, while Abe confides in John.
Amnesiac Abe wanted to give up once before when he learned that Paulina, like Neighbours' Paul Robinson, once tried to bulldoze an important part of the neighborhood.
So what's his problem now? And can John talk him out of doing anything stupid?
Hopefully, Marlena will also help Paulina be patient despite this significant setback.
Tate faces the music with Holly.
Tate didn't do anything wrong. He didn't even know Holly was related to Nicole when he told Nicole that he ran into a hot girl who was in love with someone else.
If anything, Holly is the one who should be apologizing to him.
According to the spoiler video, Tate will also try to convince Holly to give up on Johnny, who is too old for her and already has a girlfriend, but it's unlikely she'll listen.
Alex has an offer for Theresa.
Will Alex offer Theresa a job at Titan?
That's the only offer that makes sense unless he's planning on faking a relationship with her for some reason.
Theresa's true colors should come out when Alex comes to her door. Will she do whatever he asks to get his attention, or will she stand firm against something not in her best interest?
Xander has reservations about Sloan's plan.
Xander may have lost his appetite for destroying Sarah's relationship in court.
The only way he'll get full custody of baby Victoria is if he proves Sarah is an unfit mother who tells her children lies to hurt or control them.
But now that Sarah's softened toward him, Xander might be reluctant to go full-steam ahead with destroying her life.
Your turn, Days of Our Lives fanatics. Hit the big, blue SHOW COMMENTS button and tell us what you think of these spoilers.
If you'd like to chat about already-aired episodes of Days of Our Lives, check out the latest Days of Our Lives reviews and Days of Our Lives Round Table discussions.
Days of Our Lives streams exclusively on Peacock. New episodes drop on weekday mornings at 6/5c.
Jack Ori is a senior staff writer for TV Fanatic. His debut young adult novel, Reinventing Hannah, is available on Amazon. Follow him on X.