Grey's Anatomy Photo Preview: Mer, Riggs, and a Kid Makes Three

Jasmine Blu at .
Cute kid alert!
On Grey's Anatomy Season 13 Episode 23, Nathan and Meredith will take on a case involving a wise beyond her years patient who wants to know the ends and outs of her condition and her treatment. She certainly seems to be impressing Riggs.
Meredith and Nathan appear to have their first couple's quarrel about the course of the case. Even Meredith can't help but smile at Nathan and their tiny human patient. That's a good sign, seeing as she has a brood of tiny humans herself.
Elsewhere, Alex is at a medical conference looking especially dapper in a gray suit. The question is, what is in that file of his he is carrying around and does it have anything to do with that mysterious phone call he made at the end of Grey's Anatomy Season 13 Episode 22?
Owen gets a surprise of his own when someone comes knocking at his door. It has to be about his sister, right?!
Check out the photos below and hit the comments with your theories. Need to catch up? No problem, you can watch Grey's Anatomy online here via TV Fanatic!
1. Future Doctor In the Making - Grey's Anatomy Season 13 Episode 23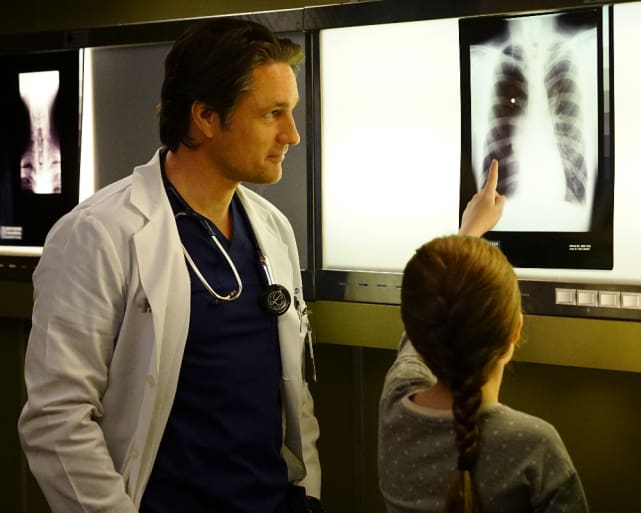 2. Out of Town Conference - Grey's Anatomy Season 13 Episode 23
3. Interruptions - Grey's Anatomy Season 13 Episode 23
4. Cute Kid - Grey's Anatomy Season 13 Episode 23
5. Friendly Debate - Grey's Anatomy Season 13 Episode 23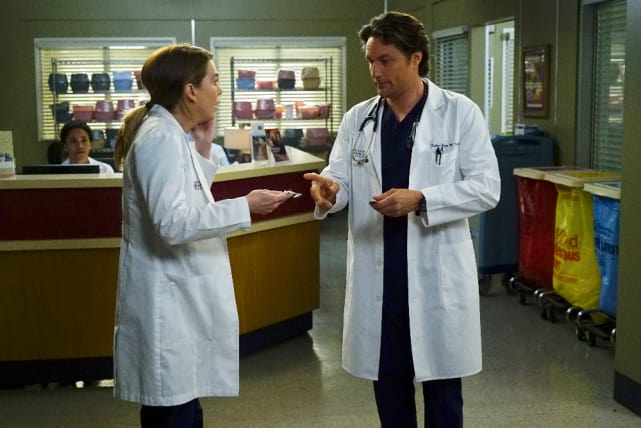 6. Now Boarding - Grey's Anatomy Season 13 Episode 23
Wait! There's more Grey's Anatomy Photo Preview: Mer, Riggs, and a Kid Makes Three! Just click "Next" below:
Next