Grey's Anatomy Midseason Finale Promo: A Storm is Coming and It's SEXY AF!!

Jasmine Blu at .
Another storm is brewing in Seattle, but the wind isn't what has Grey's Fanatics talking.
If we can't take anything away from the teaser for Grey's Anatomy Season 15 episode 8, we can conclude that the midseason finale will be sexy AF.
The wind is blowing Seattle away, but the promise of smoking hot 'ships sailing is mind-blowing for fans. The wind storm has nothing on the storms brewing in the lives of Seattle's finest.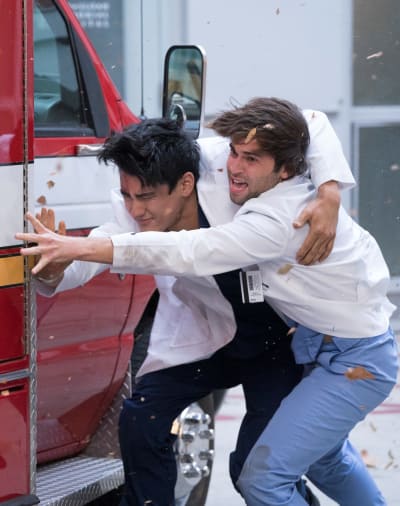 Speaking of fine, how do you feel about delicious DeLuca?
If you don't recall, way back yesteryear Giacomo Gianniotti was teased as the new McDreamy after his debut on Grey's Anatomy Season 11 Episode 23. That was shut down, but look at where we are now?
Related: Grey's Anatomy Season 15 Episode 7 Review: Anybody Have a Map?
With that face, and that hair, and that smile the comparison made sense. DeLuca has matured a great deal over the years. The current season has him at his most mature, confident, and put together yet.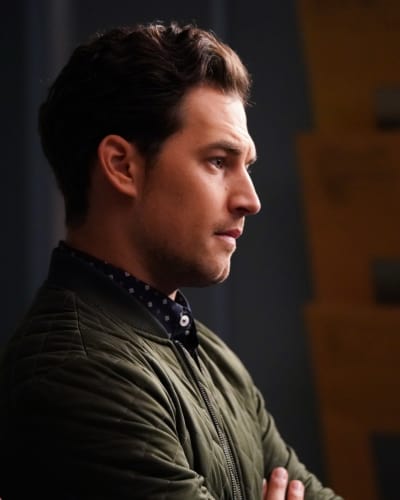 Maybe that's why fans are receptive to the smoking hot sexual tension that has been building between him and Meredith.
It's the season of love, and Meredith is open to finding out after going on a series of dates, getting her flirt on, and having sex dreams about her handsome colleagues.
But at the center of it all is DeLuca who got a head start over Link, when he shared a drunken kiss with Meredith on Greys Anatomy Season 14 Episode 24 that neither he nor Meredith can stop thinking about.
In this light and flirty love triangle teased with Meredith, DeLuca, and Link, DeLuca has the advantage. For one, his obvious attraction to Mer isn't one-sided.
Well, MerLuca fanatics, the promos may give you everything you're looking for. DeLuca was always sexy, but this new and improved, mature DeLuca is embracing his inner McDreamy 2.0 and serving us leading man material.
If you were on the fence about shipping MerLuca (like myself), then that may all change after seeing their sexy exchange in the clip.
The two of them are standing so close together that they look like they are about to kiss. DeLuca can be heard breathily calling Meredith by her first name, and he NEVER does that!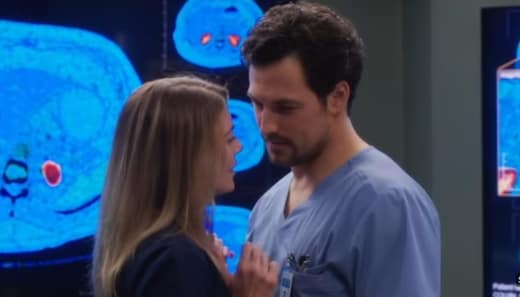 And if that didn't get you hot and bothered, Meredith with clenched fists and a tenuous hold on her self-control that I could never possess, says "Andrew" in an equally breathy and sexy way. Their kiss is inevitable, right?
If you think the off the charts chemistry ends there, then you should take note of the Schmico action happening outside of the hospital.
The wind storm has Levi and Nico seeking shelter in an ambulance outside of the hospital, and the wind may not be the only reason that the bus is rocking.
Related: Grey's Anatomy Season 15 Episode 6 Review: Flowers Grow Out of My Grave
Levi lost his glasses in the storm, but he sees things clearly. His eyes and heart are wide open, and the timid, meek intern is going after what he wants.
What Levi wants is Nico. After their sultry makeout session in the elevator, he's determined to prove to Nico that he's more than a "baby gay." Levi is all in. Go, Levi!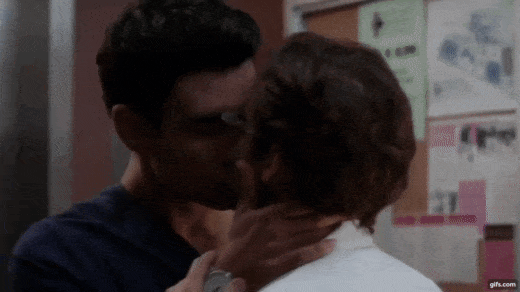 Elsewhere, Teddy put her big girl pants on, and she wants to tell Owen about their love child. Unfortunately, due to the storm, the hospital is slammed with patients, and she and Owen are scrubbing into surgery together.
Teddy, your timing is terrible!
It looks as though some news will catch Amelia off guard, but is it the baby news or news about Betty?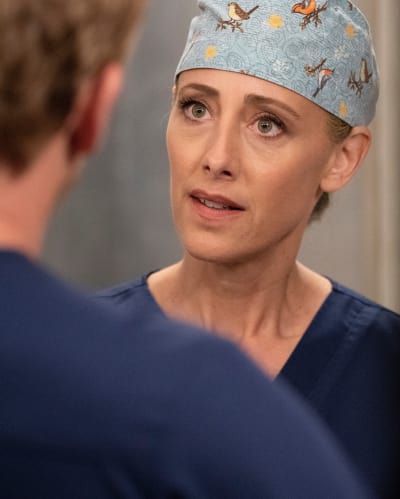 Betty has been missing since Grey's Anatomy Season 15 Episode 6, and we haven't heard anything about her or her well-being. Prayer circle that Amelia's pseudo-daughter is healthy, safe, and sober!
Jackson's prayers must have been answered because he and Maggie seem as though they kissed and made up after a puzzling spat that left Jaggie fans frustrated, divided, and some considering jumping ship.
Well, at the very least they can stand being in the same room together.
Maggie may find herself making it up to him for running away, Jackson may give her the cold shoulder while he's standing on relationship high ground, and I'll be scratching my head trying to figure out how everything got flipped on her alone.
Related: YOU Season 1 Episode 10 Review: Bluebeard's Castle
But Maggie should maintain her support person role as it appears as though the sisters are keeping up with their habit of sharing things they technically aren't supposed to with one another. Meredith must be preparing Maggie for the Catherine cancer news.
That should be enough for Jaggie to put their differences aside or motivate them to worth through them.
The 'ships on Grey's Anatomy are complicated.
The most blissful of the bunch is the Karevs who will use being trapped in their house during the storm to have a second honeymoon because as die-hard Jolex 'shippers know, storms are their kink.
Miranda's sabbatical from her marriage must be going well, or else she's throwing herself into work as a distraction because she is super excited about the crazy cases flooding the E.R. post the storm.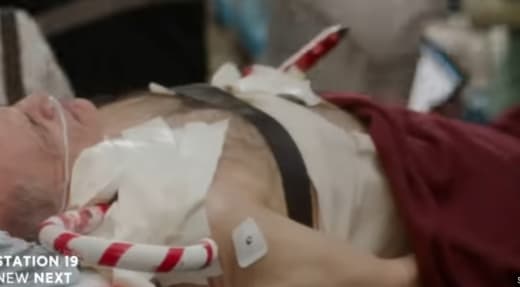 Levi is skeptical, but Dahlia and Helm are thrilled at the prospects upon seeing a guy wheeled into the ER after being impaled with a decorative candy cane.
Honestly, same. Those are the best cases!
Related: Get Great Selection of New & Classic Movies with the Lifetime Movie Club via Prime Video Channels!  
Are you excited, yet?! The midseason finale looks good!
Don't believe me? Check out the promo below, and hit the comments!
You can watch Grey's Anatomy online here via TV Fanatic to catch up.