Baroness von Sketch Show Season Finale Clip: The French Exit

Carissa Pavlica at . Updated at .
No, you do NOT have to say goodbye to anyone anymore when you're at all of those fabulous 'dos you attend.
It's 2017! You're living the high life. 
There is absolutely no reason anybody should try to guilt you into staying even one second longer at an occasion when you want to leave!
Truly, it's a thing. 
In fact, if you look it up on the internet, it will tell you this:
Ghosting—aka the Irish goodbye, the French exit, and any number of other vaguely ethnophobic terms—refers to leaving a social gathering without saying your farewells. One moment you're at the bar, or the house party, or the Sunday morning wedding brunch.
Awesome, right? Whether you're super popular or a bit of a wallflower, either scenario can make a mid-engagement goodbye incredibly awkward.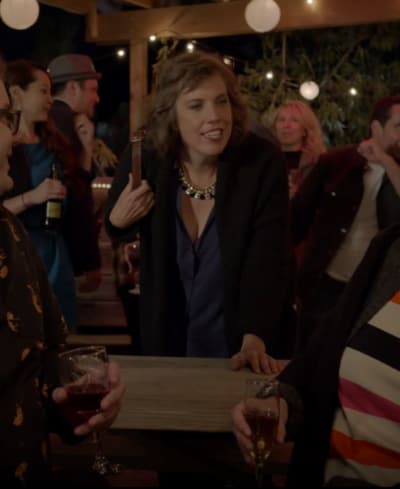 Worry no more, because the lovely ladies from IFC's hilarious Baroness von Sketch Show are here to show you how it's done.
In this exclusive clip of the Season 2 finale, Carolyn Taylor plays the woman who decides to make her French Exit, first saying goodbye to her friend, played by Baroness castmate, Aurora Browne. 
Um, unless we misunderstand the ghosting etiquette, Taylor's character might have made a faux pas upon executing her initial strategy, but hey, we weren't at the party. We'll let you decide.
If you haven't been privy to this incredible IFC program by and for women, you don't have to worry about when you jump on board. That's the glory of a sketch show! There isn't a serialized bone in its body. 
You can catch previous episodes of Baroness von Sketch On Demand and on the IFC App, and you can watch the Baroness von Sketch Season 2 finale on IFC Wednesday at 11/10c.
Things for grown-ups are aired at a grown-up time. You don't want your wee ones, whether they're your kids or your bros and sisters, watching this. This is for the adults!
Check out the clip below and tune in Wednesday night. It's that simple!