Cults & Extreme Beliefs First Look: A&E Explores NXIVM in New Series

Carissa Pavlica at .
A&E's new series Cults & Extreme Beliefs will explore all sorts of disturbing groups in which we hope you never find yourself.
In the premiere episode, debuting Monday, May 28 at 10/9c (no need to worry about it overlapping with that special two-hour Lucifer -- a completely different kind of  hell), Emmy-winning journalist Elizabeth Vargas delves into the controversial "self-help" organization NXIVM.
The group was recently catapulted into the spotlight with the arrests of its leader, Keith Raniere, and high-profile member and actress, Allison Mack on charges of sex-trafficking. 
Now the group stands accused of drawing supporters down a path of destruction that includes near-starvation diets, sexual assault, forced branding, pseudo-slavery, and blackmail.
Related: Lucifer: Fox Sets Two-Hour Bonus Episode for May 28th
In the sneak peek of the premiere episode, Sarah Edmondson, who got away, talks angrily about how she was conned into being there and how her beliefs changed after she discovered the true motivation behind Raniere's philosophical quest.
She also shares her thoughts on the brand (which she received), and what she first saw when she received it.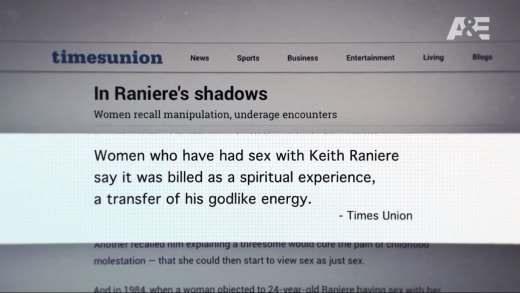 Additional organizations that will be explored this season include Jehovah's Witness, Twelve Tribes, Sanctuary Church, Fundamentalist Church of Jesus Christ of Latter-Day Saints, The Family, and U.N.O.I. now known as Value Creators.
In each episode, Vargas will go on a search to uncover how these sects use their influence to prey upon people's desperation to create powerful and often destructive belief systems.
Related: TV Ratings Report: American Idol Slides Opposite Billboard Music Awards
Each episode will take an immersive look at one currently active group through the eyes of past devotees and get perspective from believers and leaders that are still inside.
If you are as interested in shows such as these as I am and would like further coverage, please reach out in the comments!