Escape at Dannemora First Look: Benicio del Toro Breaks Free in Ben Stiller Series

Carissa Pavlica at .
Showtime's upcoming limited series Escape at Dannemora gathers a remarkable cast with a very familiar face setting the stage behind the camera.
Benicio del Toro, Patricia Arquette, and Paul Dano star in a Ben Stiller production about a prison break that took upstate New York by storm during the summer of 2015.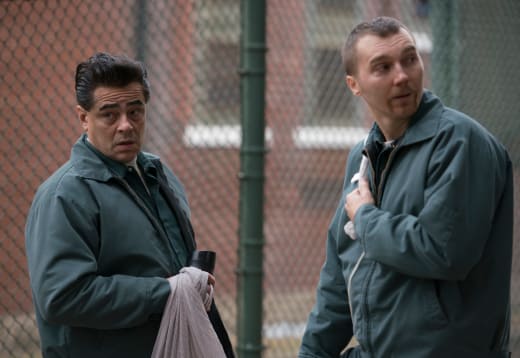 A massive manhunt was the focus of news outlets all over the area when Richard Matt (del Toro) and David Sweat (Dano) break out of prison with the help of a prison tailor named Tilly Mitchell (Arquette).
Related: Get Showtime via Prime Video Channels for Award-Winning Original Series, Hit Movies, Sports & More!
Mitchell gets sexually involved with both convicted murderers — Matt, the artistic yet intimidating force within the prison who masterminds the escape and Sweat, a convicted cop-killer who uses his good looks to lure Mitchell into Matt's plot.
Needless to say, the trailer plays out like something that could only come from the imagination of Hollywood, but it's straight out of real life.
Mitchell won't get away with it, though, she's housed in Bedford Hills Correctional Facility for Women in Westchester County, New York. (A mere 10 miles from my house ... hi Tilly. Whoopsies!)
I'm going to leave the fates of Matt and Sweat to the series. There needs to be some reason for you to tune into the program, right?
Related: Ray Donovan Season 6 First Look: Ain't No Sunshine
I will add that in June 2016, a report from the Office of the Inspector General in New York declared that a total of 20 uniformed and civilian employees enabled the escape in some fashion.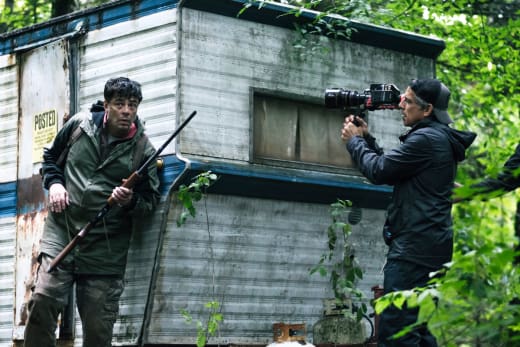 Watching Academy Award winner Arquette's return to TV is a big draw for me, as is the appearance of Bonnie Hunt who has been mostly doing voice work of late. She's been sorely missed!
Hunt and Stiller worked together in the past, and their reconnect is appreciated.
Escape at Dannemora premieres on Showtime Sunday, November 18 at 10/9c.