The Raw Word Sneak Peek: Station 19's Jay Hayden on Auditioning for Shonda Rhimes!

Carissa Pavlica at . Updated at .
If you haven't found the time to watch The Raw Word yet, you're about to do so!
A new talk show featuring Dr. Michael Eric Dyson, with Claudia Jordan and Dr. Dan Ratner are said to have a mental curiosity for all things affecting people today.
That works for me!!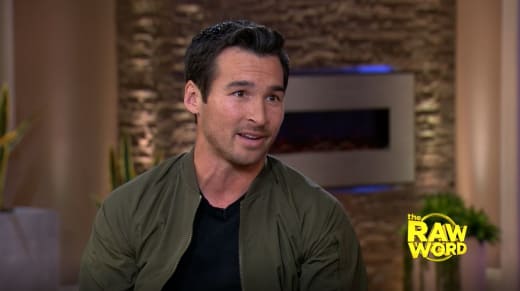 That's especially true when their curiosity leads them to interview hot new Station 19 firefighter Jay Hayden.
Hayden will be starring on the new ABC series, and in the exclusive clip below, he shares his experience auditioning for Shonda Rhimes.
Related: Station 19 Trailer: Meredith Grey Helps Save the Day
For those of you who thought Rhimes wouldn't be in the room for a series not directly under her management?
Well, you were WRONG!!
And Hayden really wanted to say she was very sweet.
But he didn't! 
That's because he was very intimidated, as any actor would be who was still working his way up to a superstar status (as we expect he will be after fighting fires on ABC!).
Related: Grey's Anatomy Round Table: Bring on Station 19!
If Hayden is as adorable on the show as he is in this interview with Dr. Dyson and Claudia Jordan, we know big things are in store for him.
Take a look at the exclusive clip and search your local Sinclar Broadcasting stations for the episode which will air TOMORROW so you can see the entire interview and make The Raw Word a more permanent fixture on your DVR!!