There's going to be a major surprise on American Idol, season six. But what will it be?
Here's a recent column from MSNBC.com taking a few serious and a few silly stabs at the notion ...
Give past contestants a second chance
The Boston Globe's Joanna Weiss recently suggested that the show "take a page from Project Runway and bring back a rejected contestant or two - someone beloved by fans, or perhaps somebody hated. Maybe even a rejected contestant from a previous season."
That, of course, wouldn't be all that unusual for American Idol, which in its first season, brought back five "wild card" contestants who'd been eliminated earlier. Of those, RJ Helton advanced and joined the top 10 finalists; he went on to place fifth overall.
Still, Weiss' suggestion that contestants from years past - like popular
Chris Daughtry
from last season, for example - could get a second chance would certainly shock America.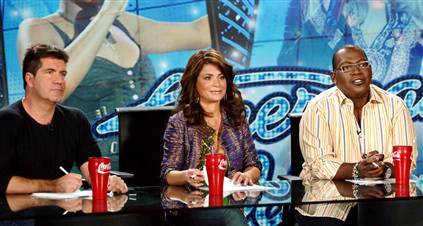 Building off her idea, perhaps a number of those who've been eliminated will come back for one episode, and then viewers will vote to let one join this year's competition as a finalist, a sort of wild-card competition but with alumni candidates, and viewers in charge.

Some of those who've unexpectedly lost or been eliminated have gone on to successful careers, so it's doubtful that contestants such as Clay Aiken or Jennifer Hudson would return to the show. But if they or others did, it would certainly be the type of event that producers are hinting about.

Let viewers fire the judges for a week
The most shocking part of every season of American Idol are the unexpected eliminations; the only people on the stage who are safe are judges Simon Cowell, Paula Abdul, and Randy Jackson, and host Ryan Seacrest. America would really be surprised, then, if Seacrest announced that viewers could vote to eliminate a judge.

Because they're all under contract and unlikely to be really fired unless they do something inappropriate, perhaps viewers could be allowed to select one judge who'd have to wear a muzzle for an entire episode. Just think: No allegedly witty, biting cutdowns from Cowell; no noncommittal "dawg, you did your thing" from Jackson; or no whining, sycophantic praise from Paula Abdul.

It'd be a gift to America.

Perhaps that muzzled/fired judge could be replaced for a week by a past contestant like Justin Guarini, who doesn't seem to have anything better to do with his time. Or perhaps even a viewer could sit at the big table and drink out of the sponsored cups.

Taking the idea one step further, the entire panel of judges could be replaced for a week, maybe with a mix of industry experts, past contestants, and viewers. The real judges could watch the action from the side of the stage, enclosed inside a glass box so we can't hear a word they're saying.

Borrow some ideas from Down Under
A more likely possibility might be something borrowed from another version of the series. Australian Idol underwent a significant makeover last year, improving ratings by making changes unlike any other version of the show worldwide had ever seen.

Still, these weren't groundbreaking changes; the show allowed contestants up to age 30, allowed them to play instruments, featured more singer-songwriters in the competition, and compressed the more boring parts of the show.

But their biggest change seems like a possible candidate for American Idol 6's mid-season surprise. During the Australian show's season, the "Up Close and Personal" episode shows contestants' lives outside of the competition, and last year, they wrote and performed original songs as part of that episode.

American Idol

is essentially a five-month karaoke contest, and when original songs are performed, they're usually the insipid ballads assigned to the finalists. Having the contestants write and sing their own songs could be dramatic and illuminating, and could be billed as an event-style show. But that does lack shock value, unless they write hysterically awful songs about Abdul hitting on them.

That would work nicely with the planned songwriting competition. In addition to the normal contest, American Idol 6 will include a separate songwriting competition; the winning song will become the single released by the winner. Since regular Americans will be writing their own songs, we might as well have the finalists write some, too.

Leave the studio
American Idol contestants live together; in earlier seasons it was a mansion, and in more recent seasons they lived in a luxury hotel. So why don't we see any of the drama that occurs there?

"We want the finalists to be comfortable during what little private time they have," producer Nigel Lythgoe said in the Official Behind the Scenes Fan Book.

Thus, cameras stay away, and we see the contestants only during performances or when they're filming commercials for the show's sponsors.

But American Idol has never shied away from humiliation, and isn't exactly kind to its contestants in other ways, starting with the tortuous elimination process that occurs every Wednesday. To take that to the next level, cameras could invade their living spaces.

That could provide a glimpse of their lives and personalities off the stage, with the addition of a Laguna Beach-style episode every week. Or if producers wanted to go much further, cameras could catch the finalists in the shower, for example, and force them to sing a song right then, while bathing.

Borrow ideas from other reality shows
Most talent competition reality shows have taken ideas from American Idol, just as other reality shows constantly borrow from one another. And FOX, with its clones of other reality shows (such as Trading Spouses) is no stranger to this.

Maybe this season, American Idol could give its contestants a song and forced to perform it with only 30 minutes to prepare, like Hell's Kitchen does with food and Project Runway does with garments. Or the show could force its contestants to eat only rice while living on a beach, like Survivor.

Actually reveal the vote totals
What would really shock America is if American Idol suddenly shared viewer vote information with viewers. For a competition that hinges on voting by fans, the show is not very forthcoming with information besides telling us which contestants were the least popular.

Revealing the exact vote totals every night might minimize the drama, especially if one person is the favorite, but at least it will end (some) of the conspiracy theories about the outcome of the show's weekly voting, and let us know how popular our Idols really are. That would be a surprise.

Matt Richenthal is the Editor in Chief of TV Fanatic. Follow him on Twitter and on Google+.

Tags: American Idol