Let's get right to it ...
- Ryan tries to create suspense with the first three contestants, but did anyone think Lakisha Jones, Blake Lewis or Chris Sligh were going home? Neither did we.
- Fortunately, Jordin Sparks makes it. We were a little afraid she's be tossed into a waiting pool.
- Wow. Quickly, Phil Stacey remains - but Jared Cotter is eliminated. Slight surprise there. We'd have gone with Phil.
- Another easy choice, Melinda Doolittle steps up next. But would they actually toss out Brandon Rogers by her side? Apparently not. Good, he still has potential (not as good for Sundance or Sanjaya, though).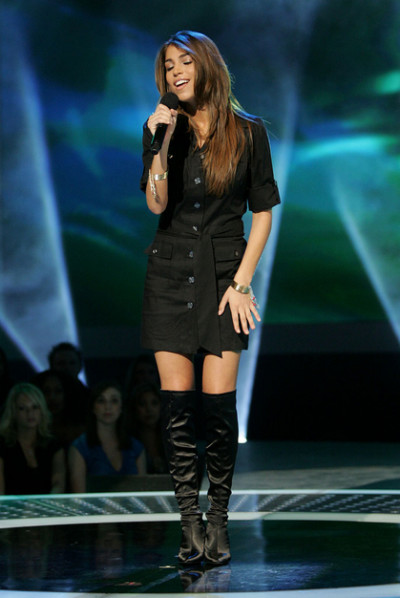 - Two more easy choices as

Chris Richardson

and Gina Glocksen are voted to the final 12. Guess Gina wasn't really a lock. But she was to us. Fun gal.

- Carrie Underwood sings "Wasted." We're not even country fans, but it's hard not to love this artist when she performs.

- Gosh, Antonella Barba is crying before Ryan even talks. And turns out she had a reason to. The media darling - sort of - is out. Oh, but Stephanie Edwards is moving on.

- Whoa, America, what did you do?!? Sabrina Sloan is voted out over Haley Scarnato. Call this the first upset of American Idol Six. Simon didn't even know Haley's name!

- The American Idol surprise is announced. Idol gives back. Click here to read more about it. Impressive stuff.

- Can't say we admire Sanjaya Malakar or Sundance Head right now. Whichever gets voted off just got a glimpe of what true poverty and bad news looks like. Gotta be hard to react to any Idol news now. Maybe that'll help put things in perspective, though. Meanwhile, Sundance is gone.

Ok, sorry, but:Â  WHAT THE HECK IS WRONG WITH YOU VOTERS?!?!?!?! SANJAYA IS A TERRIBLE, AWKWARD SINGER.

Matt Richenthal is the Editor in Chief of TV Fanatic. Follow him on Twitter and on Google+.

Tags: American Idol