Welcome to the third Gossip Girl Round Table.
While fans of the show gather in the Round Table discussion, I'll say Dan and Serena. I thought he'd put the "wood" in Van der Woodson for sure!
LovelyLively: Gotta go with Blair. She blew off Nate, cut loose at the Victrola and was getting busy in Chuck's limo in what seemed like the blink of an eye. Never saw that coming. Dan and Serena holding off wasn't too shocking, as they clearly like each other too much to rush things.
GossipGuy: Can I choose neither? I've seen Blair and Chuck happening since the masquerade ball. I've seen Dan and Serena not having sex for this whole episode.
Did Nate do the right thing by turning in his father?
LovelyLively: Definitely. Not only is the old man putting his own health and business at risk by abusing cocaine, he expected his son to take the fall for him? That is bull$hit if you ask me. With his mom in complete denial, as well, Nate and his bloody lip had no choice but to take action.
GossipGuy: Absolutely. The man tried confronting his dad, he tried going to his mom for help. Papa Archibald was out of control and needed to be stopped. He friggin hit his kid!
DANdy: No. As Lindsay Lohan can relate to, it's hard to grow up with your father in jail.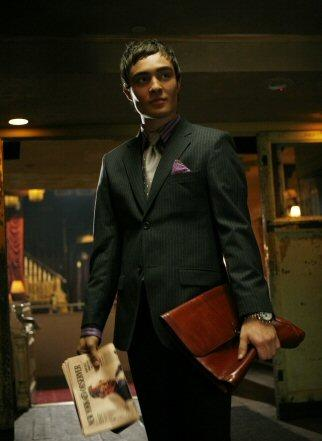 Will Lily take Bart back?
GossipGuy

: I hope not. Lily needs to be with Rufus. How can you not feel that chemistry?

DANdy: She'll probably have a cow first, then tell Bart to eat her shorts. Eventually, though, Lily will cave.

LovelyLively: Not if Rufus has anything to say about it. Even though Chuck's hunch about Bart and the Asian reporter proved to be untrue, he and Lily don't seem like they work as a couple. Her chemistry with Rufus is palpable.

More awkward: Realizing you just slept with Chuck, or your dad catching you reading up on sensual massage online?
DANdy: The former. At least sensual massages can't lead to sexual transmitted diseases.

LovelyLively: Option B. Explaining that to your pop? As uncomfortable as it gets. Realizing you slept with Chuck can be a rude awakening, sure, but there's no doubt the man has game. Right, Blair? Chalk that one up to a learning experience and move on... maybe he won't even remember.

GossipGuy: Well, since I personally think Chuck is the man, I'm gonna go with the sensual massage. Need I remind you Chuck even asked Blair if she was sure?

Steve Marsi is the Managing Editor of TV Fanatic. Follow him on Google+ or email him here.

Tags: Gossip Girl, Reviews