Welcome to the latest edition of the Glee Round Table!
As usual, our staff has come together to analyze the latest episode of this musical comedy, an episode that featured a star-making performance by Chris Colfer as Kurt. Let's delve right into the weekly round table discussion...
Do you like Rachel?
A. Cheerio: Not right now, no. Talk about not appreciating what you have! Compare where she was when the series kicked off to now. No glee club to glee club star! Will has given her a chance to show off her one true talent, but the team will never go far if she sings all the solos.
BerryTalented: As my witty name suggests, I still thinks she's Berry talented. But there's no doubt Rachel has to calm down. She has to look at this as a marathon, not a sprint, and see the long-term plans Will has in mind.
FinnFan: Of course I do. She's clearly the best in the group. Will should build the choir around her, like the Patriots and Tom Brady or the Lakers and Kobe Bryant. It's worked out well for those teams.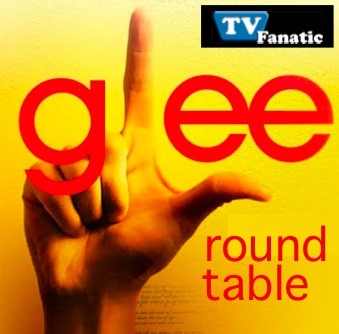 What was your favorite Sue Sylvester quote from the episode?
A. Cheerio: Man. Can we go back in time and give Sue a spin-off instead of Addison Montgomery? She cracks me up all the time. From last night, I'll go with: I'll often yell at homeless people: 'Hey, how is that homelessness working out for you? Try not being homeless for once.'

BerryTalented: It's short, it's simple, it's hilarious: "Yes, we cane!"

FinnFan: Haha, I laught out loud at pretty much anything actress Jane Lynch says. My favorite this week was her delivery of: "Not everyone is gonna have the walnuts to take a pro-littering stance. But I will not rest until every inch of our fair state is covered in garbage."

What will happen with Quinn's pregnancy?
A. Cheerio: It's gotta be a false alarm... right? The alternative is Quinn actually being knocked up for nine months, which doesn't seem entertaining; while also deceiving Finn the entire time. A bit too heavy-handed for Glee.

BerryTalented: They're clearly setting it up for Terri to take the child, but how would that make any sense? Isn't Quinn like three months behind where Terri is supposed to be in her pregnancy?

FinnFan: I don't know. But I'm happy with anything that gives Puck more screen time. That guy cracks me up!

Should Chris Colfer win an Emmy?
A. Cheerio: Absolutely. I don't know if the actor is gay in real life and I don't care. He pulls off the role of a scared high schooler better than anyone I've ever seen.

BerryTalented: Yes. I can't believe this is his first starring role. Or that he's only 19. He comes across as a veteran of the small and big screens.

FinnFan: Yes. There shouldn't even be any other nominees. The exchange with his father at the end somehow created a lot of dust in my living room, if you know what I mean. Mike O'Malley was great in that role, too.

Matt Richenthal is the Editor in Chief of TV Fanatic. Follow him on Twitter and on Google+.

Tags: Glee, Round Tables