When you work in an office, there's going to be gossip. But you've never seen workplace "Gossip" quite like The Office presented it in its Season 6 premiere Thursday night.
Always desperate to be in the know, Michael Scott spread a rumor about a colleague that he later regretted, and tried to cover up by spreading more untrue rumors.
Makes perfect sense, right? It's Michael Scott, people.
Who among the Dunder-Mifflin ranks is having an affair? What employee is questioning his or her sexuality? Our recap of "Gossip" attempts to answer that and more.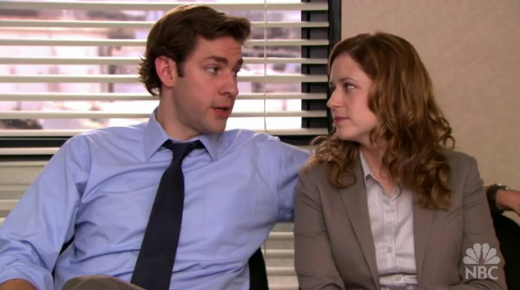 Check out our complete library of The Office quotes from this and every episode in the show's history. Some of our favorite lines from last night's "Gossip" included:
Michael: How do you untell something? You can't. You can't put words back in your mouth. What you can do, is spread false gossip... so people think that everything that's been said is untrue. | permalink
Pam: This is the last day of our summer interns. It's been nice. We haven't had interns in a while. Ever since Michael's Monica Lewinsky incident. He didn't do anything sexual, he just made too many Monica Lewinsky jokes. | permalink
Michael: Did you pee on a stick?
Jim: I did. It was inconclusive. | permalink
Michael: [on ultrasound pic] Oh my god! Pam! Look at that! That is the inside of your vagina! | permalink
Jim: You gotta figure this out.
Andy: How?
Jim: Have sex with a woman.
Andy: Yeah!
Jim: Then a man. Then compare. | permalink
Erin: Kelly has an eating disorder?
Michael: Yes.
Erin: She always eats my lunch.
Michael: Anorexia. She's an anorexitic.
Erin: We should do something.
Michael: Nothing can be done. We just have to tell everybody and hope for the best I guess. | permalink
Michael: The one true rumor ... and this is going to ruin this person's life, is that-
Jim: Pam's pregnant!
Kevin: I knew it! At first, I thought, 'Oh, Pam's breasts are a little bit bigger. She must have gotten a new bra with padding.' But then I thought, 'Pam doesn't NEED padding.' It just didn't add up, Jim.
Jim: Okay. Thank you.
Dwight: Who's the father?
Pam: Jim.
Creed: Who's the OB-GYN? | permalink
Steve Marsi is the Managing Editor of TV Fanatic. Follow him on Google+ or email him here.

Tags: The Office, Reviews
Want more The Office?
Sign up for our daily newsletter and receive the latest tv news delivered to your inbox for free!
More From TV Fanatic
Cindy's husband ends up dead and that forces the police into overdrive. Will his confession hold up?
On tonight's Under the Dome, Rebecca wants to release a deadly virus into the population. Will she do it? And how many would die?
Fritz is offered a new job with the LAPD on this episode of Major Crimes. Read on for more.
Joss tries to stop Harry from going back to Australia, Karen faces a dilemma involving her lover and a patient, April has a crisis of conscience and Savi says goodbye to her home on Mistresses,
---