Welcome to the latest edition of the Melrose Place Round Table!
Our staff writers have gathered to discuss the guiltiest pleasure on television, a show that's so poor on so many levels that it's quite entertaining.
This week, we pick apart the Jonah/Riley relationship; pity Ashlee Simpson's castmates; and compare major guest stars. As always, reader feedback is encouraged. Let's do this...
Who will end the relationship: Jonah or Riley?
JonahBro: Riley. You do know that the movie assistant girl is played by Jenna Dewan, right? She's married to Channing Tatum. No way will Jonah mess with that tough guy's woman.
SimsCity: Jonah. As we saw last night, the dude's got some trust issues. Not to mention some geeky, smoking hot director's assistant ready to work over his... script.
DaphneZunigaWillHaveHerRevenge: Violet. That psycho will do something to ensure these two call it quits.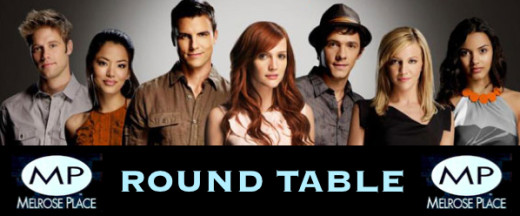 What was the episode's best/worst line of dialogue?
JonahBro: Auggie, reminding us all why we're human: because we have moments. Thank goodness he's here.

SimsCity: Ella to Jo: "Maybe Riley wasn't the only one posing out there today." Despite her bitchy facade, she had Riley's back. You could say she's under her umbrella-Ella-Ella. I'm cleaning out my desk at TV Fanatic after that one. But before I do, as a close second, even though it's not a quote, I choose Lauren's signature facial expression. Smiles from her this season? 0. Pouted-lips quasi-frowns? 276.

DaphneZunigaWillHaveHerRevenge: Riley telling Jonah: "I don't need to see your name in the opening credits to know I'm marrying the perfect guy." He wasn't so perfect when you kissed Auggie, was he, Riles? Was he?!?!

Who do you feel worse for: The sparrow whose eggs are now destroyed, or the cast members that must act alongside Ashlee Simpson-Wentz?
JonahBro: Forget the cast members. I feel bad for the key grip and the caterer that must be within 100 yards of that "actress."

SimsCity: The sparrow. Losing one's offspring is even worse than one's mind as the other cast members must be. But there's still hope for them. Violet could always drown in the pool she loves to pretend to sulk by.

DaphneZunigaWillHaveHerRevenge: Lay off Ashlee, will you! She's had to compete with her sister's breasts talent for her entire life. That isn't easy.

Which original cast member were you happier to see: Jo or Jane?
JonahBro: Jane. She actually played a major role during her episode... but where did she go? Wouldn't the police have tracked her down and asked her a series of questions?

SimsCity: Jo. I liked how she was integrated into Riley's modeling story line, both when she got on her case about posing topless and came to apologize later. It seems forced at times, but Melrose Place is doing a much better job than 90210 of melding the original cast with the new hotties.

DaphneZunigaWillHaveHerRevenge: Jo never did it for me. It was great to see not only see Jane return, but to see her acting like a total bitch.

Matt Richenthal is the Editor in Chief of TV Fanatic. Follow him on Twitter and on Google+.

Tags: Melrose Place, Round Tables