Welcome to the latest edition of The Vampire Diaries Round Table!
Following a suspenseful episode, during which the stakes were raised considerably in the final scene, our staff can't wait to delve into various characters and developments from "Family Ties."
We'd love to hear from readers, too, as we cover the most pressing topics from this week's installment...
Will Damon escape the basement?
VDLover: Call me crazy, but I don't think this is the last we'll see of Damon. I know Stefan doesn't wanna become like his brother, but come on. He couldn't have done a better job of incapacitating him?
DoMeDamon: Yes, and Zack will help, turning on Stefan.
ElenaLova: I love this show, but that part bothered me. Stefan went to so much trouble to poison his brother... and then stuck him in a locked-up cellar room?!? Damon can jump through windows, overpower any human being. I'm pretty sure he can find his way out of there.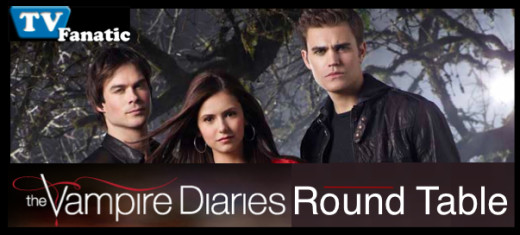 When will Elena find out Stefan is a vampire?
VDLover: I've never read the books, so please don't ruin this for me, people. I think it needs to happen soon. There's only so long it can remain beliveable that she gets all these clues and doesn't put them together.

DoMeDamon: The promo for next week makes it sound like this will happen sooner, rather than later.

ElenaLova: Within the next couple of episodes. That's why I like this show so much: it's not really about hiding Damon or Stefan's secret. That would get old quickly. But it's established great characters I actually care about; two of whom happen to be eternal blood suckers.

What was your favorite Damon Salvatore quote from the episode?
VDLover: There were many I could choose, but gotta go with his meta shout out/insult to Twilight. That was priceless.

DoMeDamon: His response to Caroline asking if he was gonna killer her: Yes. But not yet. Talk about creepy!

ElenaLova: I loved his advice to a brooding Stefan: You're dead, dude. Get over it.

What are Caroline's mother and company planning?
VDLover: I don't know, but Damon seems to be on to them. I'm guessing that crystal he stole was meant to thwart their plot.

DoMeDamon: Mystic Falls has a rich history, one that seems to include vampires. These adults are clearly familiar with it and know what steps to take to rid themselves of the threat.

ElenaLova: I hope it's not another lame party. Can we at least get some beer pong next time?

Matt Richenthal is the Editor in Chief of TV Fanatic. Follow him on Twitter and on Google+.

Tags: The Vampire Diaries, Round Tables