Welcome to the latest edition of the 90210 Round Table!
As mentioned earlier today, we didn't love the show's latest episode and we'll explain why below.
But we always encourage feedback and disagreements, so please visit our 90210 forum or leave a comment and let us know your thoughts on various Round Table topics. Let's get right to them...
Is this the last we'll hear from Sasha?
BrendaLova: I'd have to think so. I just hope this storyline wasn't a means to create more tension between Debbie and Harry. How will Dixon react to the supposed miscarriage? I'm curious to find out.
The Real McKay: No way. That girl is nutso! I'm sure she'll weasel her way into Dixon's life again somehow. Sleep with one eye open, Debbie.
Wild4Wilds: Yes. But, according to various spoilers (sorry, I peeked!), it's not the last time Dixon will get involved with a cougar.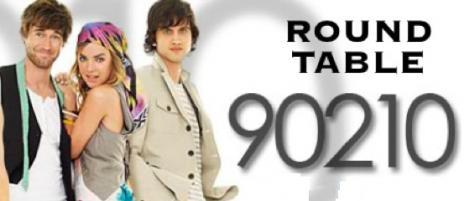 Is Ivy a welcome addition to the show?
BrendaLova: Not the way she's been introduced. Her relationship with Liam hasn't seem natural from the outset, as they immediately laid into each other, only to soon lay each other. A bit of character development first would have been nice.

The Real McKay: Definitely. Adrianna, Silver and Naomi are all sort of similar. It's nice to see a female jock on 90210.

Wild4Wilds: She is, but it's been a bit too much, too quickly. Ivy got more air time this week than Silver. That didn't feel right to me.

How will Jasper and Annie's relationship end?
BrendaLova: Annie is headed down a dark path and I don't see her recovering any time soon. I think she actually discovers Jasper's drug dealing, but ends up going along with it.

The Real McKay: Major jail time for one of them. Because Annie is a major - albeit annoying - character, I'm gonna go with Jasper.

Wild4Wilds: Hmmm... Jasper is a shady film buff and Annie is exploring a dark side. Two words: sex tape.

Offer some guidance to Adrianna.
BrendaLova: Don't go back to the hard stuff. Give the softer gender a try instead. I have a feeling you'll like it.

The Real McKay: Have you seen yourself? Have you seen Navid?!? Try looking in a couple mirrors. Trust me: you can do better.

Wild4Wilds: Ashton Kutcher can be awfully annoying. Just keep that in mind before you get involved with his step-daughter.

Matt Richenthal is the Editor in Chief of TV Fanatic. Follow him on Twitter and on Google+.

Tags: 90210, Round Tables