Before we critique our least favorite 90210 episode of the season, allow us to say something positive about "Women's Intuition."
After The CW hyped Samantha Ronson as a guest star, viewers could have blinked and missed her appearance. That made us happy.
Almost everything else, however, made us feel like the show is taking gigantic steps backward. Read a detailed recap of the episode and let us know if you agree with our review below...
Teddy, Liam and Ivy... Oh My! 90210 has clearly made an effort this season to unite characters in cliques, following the Dylan/Steve/Brandon and Kelly/Donna/Brenda models from the original. That's fine. But it would be nice to actually make these friendships seem developed and realistic.
Teddy, for example, is Mr. Hollywood, raised by a major movie star and more arrogant than anyone else on the show; yet, somehow, he's incredibly tight with Liam, who despises anything having to do with Hollywood. Has the series given us any reason to believe these two would be friends?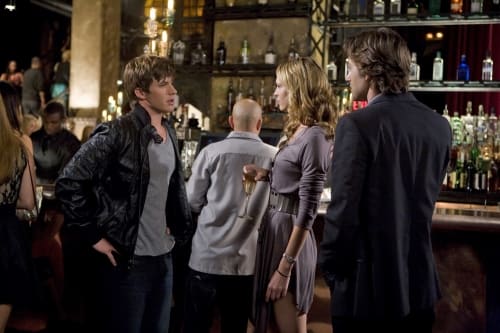 Even worse, 90210 introduced Ivy last episode, got her into an instant screaming match with Liam, then had them call a truce, become BFF and make out - all within two weeks. Sometimes, slower is better. Take your time with relationships, 90210. There's more of a payoff in the end when you do.
Fake Pregnancy, Wasted Storyline. Many posters in our 90210 forum guessed that Sasha was faking her pregnancy (props to them!), so this didn't come as a surprise. But, similar to our above complaint, it all played out so quickly. Was the show just looking to give Dixon a storyline? It's okay to keep a character on the backburner for a couple weeks.
Smart Teacher, Moronic Human Being. At West Beverly, Ryan appears to be an ideal teacher. Not only does he know his textbooks, but he clearly understands students and can relate to others well. That's what makes his relationship with Jen even more baffling and frustrating. She's been playing games and manipulating him, that much is obvious. Still, for some reason, he believes any word out of her mouth.
It makes sense that Naomi can be played by Jen because she's her sister and is blinded by both love and the need for a close relationship with at least one family member.
But, similar to our criticism of the Teddy and Liam relationship, it's unclear what Ryan sees in Jen, aside from being hot and, we'd imagine, great in bed. There's nothing (at all!) wrong with those two qualities, but Ryan acts like a manipulated, whipped puppy around her. Man up, dude!
Agree with our assessment of this episode? Did you like it more than we did? Leave a comment, let us know and check out a few 90210 quotes from it below:
Liam: I don't want anything serious.
Ivy: Serious? What are you, a girl? | permalink
Silver: Can we talk about something not cancer related?
Teddy: I'm using a new hair product. What do you think? | permalink
Ryan: You introduce me to cool musicians and I'll introduce you to high school students. | permalink
Ryan: Are we fighting or dating?
Jen: It's both, I think. | permalink
Matt Richenthal is the Editor in Chief of TV Fanatic. Follow him on Twitter and on Google+.