With one more week to go until the debut of Heather Locklear, Melrose Place aired an episode that focused a lot on relationships.
There was Violet and Michael; Violet and Auggie; Jonah and Riley; Jonah and Ella; Lauren and David.
What went down with each of these characters? Our staff has gathered to discuss them in another edition of the Melrose Place Round Table. As always, we encourage reader feedback on the questions, answers and topics below...
Will we ever see Auggie again?
M.L. House: Riley. Yes, he has to return to get his pink slip... errr, I mean answer his arrest warrant. Even if he's innocent, he could get in major trouble running from the law.
Dr. Shepherd: I'm worried we may not. Someone needs to organize a search party ASAP. I nominate Violet. We just got a tip that he may be hiding from the cops in a secret city at the bottom of the ocean. The only way to get there is to charter a boat 10 miles due west of L.A., strap cinderblocks to your feet and jump into the abyss.
The Barnacle: Wait, Auggie didn't appear on the episode last night?!? Perhaps the fact that I didn't notice says a lot about his impact on the show.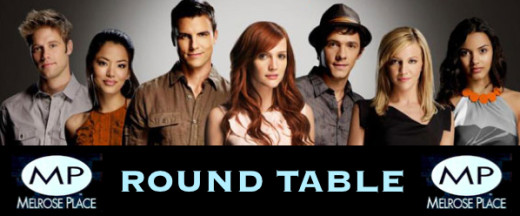 Jonah: A loyal fiance, or a total moron?
M.L. House: Can't it be both?!? Sure, Jonah showed respect for Riley by now not sticking his lens inside Ella (if you know what I mean!), but that also made him a moron for not... sticking his lens inside Ella (if you know what I mean!).

Dr. Shepherd: The puzzling thing is that he will get on his high horse after clearly enjoying his lunchtime role play experience, and having kissed cute director girl like two days ago. If you wanna stay with Riles, fine, but don't act like you're Mr. Loyal, Jonah. On a side note, are you insane? Or unable to see how good Ella looked last night?

The Barnacle: A loyal moron and a total fiance! This guy is more whipped than the type of cream many people put on top of sundaes. Ella didn't just wanna have sex with Jonah. She wanted to have middle-of-the-day-I'm-gonna-prove-I'm-hotter-than-your-fiancee-sex! The only type of sex that tops that would be a conjugal visit.

What was your favorite Violet moment from the episode?
M.L. House: When she told Riley she had been, uhh, intimate with Auggie. I'm pretty sure Ashlee Simpson actually forgot her line there.

Dr. Shepherd: When she was swimming at the end. Every second she's under water is a second free of Violet quotes.

The Barnacle: When I daydreamed that she'd been knocked unconscious by her sister's enormous breasts.

Advice to Lauren: Hit that, or avoid that?
M.L. House: Hit that! David is rich. Just think of how much you could charge for one night of, uhh, intimacy.

Dr. Shepherd: Like Whitney Port said on The City, sometimes you gotta hit it, then quit it. Not sure if that's good advice in Lauren's case, but it rhymes and makes you sound like a hip twenty-something.

The Barnacle: Avoid that. Focus on Ella instead. She's probably lonely after getting turned down by Jonah and, to quote Dr. Shepered above, did you see how good Ella looked last night?!?

Matt Richenthal is the Editor in Chief of TV Fanatic. Follow him on Twitter and on Google+.

Tags: Melrose Place, Round Tables
Want more Melrose Place?
Sign up for our daily newsletter and receive the latest tv news delivered to your inbox for free!
From Around the Web
More From TV Fanatic
Welcome to the Pretty Little Liars Season 5 Episode 5 round table! Gather around now!
Gather around, True Blood fans! We're here to discuss and debate Season 7 Episode 3!
Join us for the Pretty Little Liars Season 5 Episode 4 round table! Gather around now!
Our Days of Our Lives round table with MyHourglass debates Eve vs. Jennifer, Sami's master plan and who was their favortie shirtless Salemite.
---