Welcome to the Gossip Girl Insider Round Table!
With our The Last Days of Disco Stick" include classic quotes, the threesome aftermath, Lady Gaga and bad decisions by the show's blondes ...
~~~~~~~~~~~~~~~~~~~~~~~~~~~~~~~
1. What was your favorite Gossip Girl quote from the episode?

DANdy: Olivia's multi-layered quote about V: "Boxing out is one of Vanessa's favorite activities." Regarding a threesome, this is a funny, pun-laden insult. Regarding basketball, it's a compliment.
Gossip Guy: "I'm Chuck Bass. Even Europeans must know what that means."
Mister Meester: Blair was such a snot this week, even for her. She rules! Among her best lines: "I don't converse with liars or Lewinskys." "Humphrey, this isn't terrible! "I have an army to build, a school to take over, girls to blackmail."
2. Are you upset that Olivia's gone?
DANdy: Not really. Her O face never really did it for me.
Gossip Guy: No. Now every time I think of Olivia, nay Hillary Duff, I will conjure up images of Dan kissing Vanessa. Way to ruin a character I kind of liked for Dan.
Mister Meester: A little, but not too much. She's a cutie but the romance ran its course. Now we get to see Dan pine for BFF Vanessa, which is awesome ... right?
3. Lady Gaga's performance: Hit or miss?

DANdy: Miss. I love the Lady as much as the next fan of ridiculous costumes, but all musical performances on TV shows are lame. They just take up time. I can buy her music on iTunes or read about her rumored penis on The Hollywood Gossip.
Mister Meester: Hit. It went on a bit too long, but you have to love the effort that Gaga herself put into working with the writers on making her appearance a major component of the episode, not just your standard music-plugging cameo.
Gossip Guy: Miss. Is that woman a robot? Bring on my lip-syncing Britney Spears and her dance moves next episode.
4. Whose decision making is worse, Serena or Jenny?
Gossip Guy: Serena wins that title for the century. You just had the beautiful man bangs profess his love to you and you go for the married man? Good call, whore.
DANdy: Serena's. This is two weeks in a row she's gone without wearing a cleavage-revealing top! Who is making her wardrobe decisions?!?
Mister Meester: Jenny, though this unstable Upper East Sider learns from the best. She has like a 3.85 GPA at the Serena van der Woodsen School of Bad Decisions.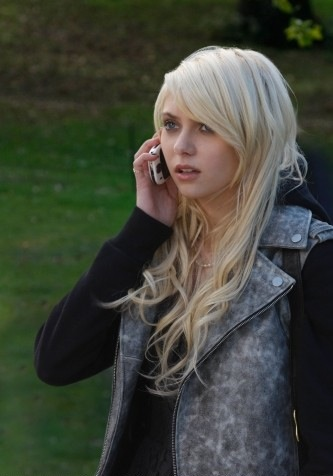 What the heck were you thinking, Jenny?


5. How awesome is Chuck?

Gossip Guy: Did you read my quote of the week? He's Chuck Bass! I think even you know what that means.

Mister Meester: It's a tribute to Ed Westwick's acting that somehow, Chuck as a loyal boyfriend to Blair, legitimate businessman and even brother-figure/protector of Jenny has worked so well this season. Props, Ed!

DANdy: Very. I'm so excited it's coming back to NBC!

BONUS QUESTION: Which couple would you prefer to see, Serenate or Stripp?

Mister Meester: Stripp. You can't beat that couple name. More importantly, Gossip Girl needs to get scandalous lose its moral compass, as we talked about last week. Married Congressman-elect nailing a teenager? That'll do it!

DANdy: Serenate, all the way. Ever since Nate Archi-balled Serena against that hotel bar, it was clear these two were meant for each other.

Gossip Guy: Duh, Serenate. Let's see, two best looking cast members getting together or Serena and some married dude. Home wrecker! Slut! Sorry, I have Tourette's.

~~~~~~~~~~~~~~~~~~~~~~~~~~~~~~~

What is your take on these hot Gossip Girl topics? Leave a comment with your answer(s). We want to know what you think!


Steve Marsi is the Managing Editor of TV Fanatic. Follow him on Google+ or email him here.

Tags: Gossip Girl, Round Tables