Really? 90210 called that its mid-season finale?!?
Before we get into the reasons why the show's cliffhangers and storylines didn't leave us on the edges of our seats, counting down the seconds until it returns, catch up on "Winter Wonderland" with our detailed episode guide. All set? Let's get to the review...
Jasper? More like Jas-BORE! We'd been waiting all season to find out how Annie's hit-and-run would play into her relationship with Jasper. But the show ignored this tidbit for months, creating a cliche-ridden scenario in which Annie dated the proverbial bad seed, ignoring all pleas about Jasper's true nature. Then, faced with accusations from his distraught girlfriend, Jasper simply says he knows about the accident?
Moreover, that's the final scene of 2009? Prior to a long hiatus, most shows try to leave viewers majorly hanging. But this scene didn't feel urgent in any way. We stopped caring about Annie a long time ago.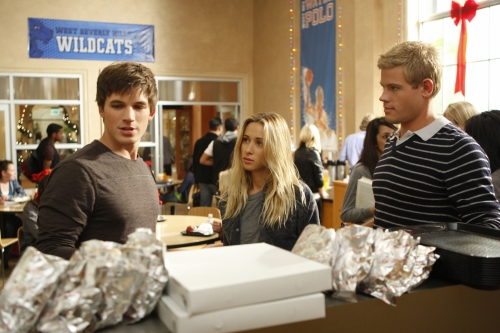 An A for Adrianna: Conversely, this is one character we've fallen for. 90210 could easily have gone back to the drug-addiction well, sending Adrianna down another spiral toward oblivion. But it's played that card so many time, the storyline would not have felt fresh. It's been nice to see Adrianna actually mature, (hopefully) kick her habit for good and come through in a believable way in order to make up with her friends.

Also, Jessica Lowndes is the best actress in the 90210 cast. Great work from her each week.

A boat? Blah! So Liam is building a boat because his therapist says it's cathartic. Okay. Was anyone else incredibly disappointed by this reveal? The show has teased that tarp for weeks, but it's not clear why Liam was ever afraid to show it or why it should be a big deal to viewers at all.

Dixon and Silver and Teddy... oh my! This love triangle has potential, at least. Readers seem split over who Silver should choose, which reflects the character herself nicely. Do you take a risk with a new guy, or call back into what's comfortable?

Still, the show is lacking... something, isn't it? Naomi and Adrianna have both been made into more sympathetic characters this season. With Jen now out of the picture, the series is missing a villain; its storylines seem stale and not particularly exciting because there's no antagonist causing mischief. All soap operas need someone viewers love to hate.

The only storyline with any real drama involves Jasper and Annie, two characters that have been shoved into the background for so long that it's difficult to suddenly care about their future.

Do you agree? Sound off in our 90210 forum and/or in the comments section below!

Matt Richenthal is the Editor in Chief of TV Fanatic. Follow him on Twitter and on Google+.

Tags: 90210, Reviews