On this week's episode of Human Target, "Sanctuary," viewers learned a little more about our main character.  Christopher Chance is a man of mystery, one with a very complex past.  We want to peel back these layers and find out all there is to know about him.
We also discovered a woman named Katherine was behind Chance's change of heart. Christopher Chance was once on the corrupt side of the law.  Can you imagine him as a criminal? 
What's the history between Chance and Katherine?  Whatever happened was enough to make him devote his entire life to saving others. Her death has apparently left him with a lot of guilt. Katherine must have been really important to him.  Were they just friends or lovers?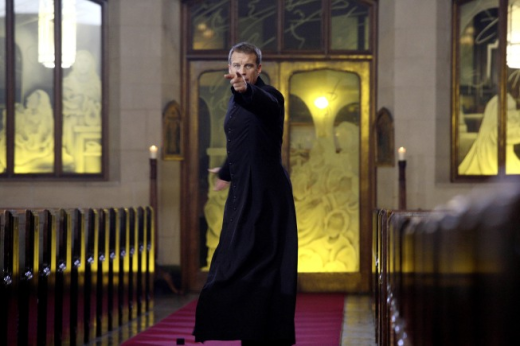 What was up with Guerrero for this entire episode?  Just as you thought he was about to betray Chance and reveal his identity, he goes and kills the man looking for this information.  What is this all about?  And is this all is somehow related to the death of Katherine? 
How was Christopher Chance able to get up in front of the monks and recite a long quote from the bible? He really is able to do anything at a moments notice!  It really makes the storyline sort of unbelievable.  The new motto of the show should be: "with Chance all things are possible"!?!  Can't wait to see what he can do next week! 
Winston is always there to help Chance get out of a pickle.  He really is the perfect partner. Sort of like a modern day Batman and Robin.  He adds a bit of comic relief and keeps Chance in line.  He really is one of our favorite characters on the show! 
Whatever happened to Chance's MacGyver moves that were in the pilot episode?  Now he has more Kung Fu magic under his belt!  Will Chance ever develop any super human powers?  I thought this show was based on a DC comic?  So many unanswered questions…
Again, the dialog between characters needs to be more realistic, but overall Human Target is an entertaining show.  We look forward to next week's episode and learning more about Chance's past. 
Here are a few of our favorite Human Target quotes from this week's episode:
Winston: I saw the look on his face as he watched Emily and Gray together and I knew exactly what he was thinking. Course he'd never admit it, but I know now he still hasn't gotten over her. He's never gotten over Katherine. | permalink
Bad man: You hold your gun like a cop. From what I understand cops don't go around shooting people.
Winston: I'm retired (after shooting and killing the man). | permalink
Winston: This is a guy who makes mistakes, a guy who is trying to put those mistakes behind him. If we can't help a guy like that, what the hell are we doing here? | permalink
Tags: Human Target, Reviews
Want more Human Target?
Sign up for our daily newsletter and receive the latest tv news delivered to your inbox for free!
From Around the Web
More From TV Fanatic
It's getting crazy on Gang Related! Lines are being crossed by gangsters and officers, is anyone in the right?
On Rookie Blue, Andy assists Sam in a missing persons case. Elsewhere, an undercover operation to track down illegal handguns sends Chris scrambling to maintain control.
Join us for the rewatch of Gossip Girl Season 2 Episode 9 "There Might Be Blood." What did you think of this episode?
Duck Dynasty Season 6 Episode 5 was all about re-branding. Read on for our latest rundown.
---