As 30 Rock episodes go, "Future Husband" was not a personal favorite of ours. Something about it felt too serious at times, or too dependent on its actual plot. Imagine that.
This isn't to suggest it was dreadful, as it was laugh out loud funny on more than a few occasions, but there are only so many in jokes about Comcast and NBC we can take.
Plus, any episode that reveals Don Geiss is dead (not at all related to Rip Torn's recent drunken bank robbing, we're guessing) can't help but cast a pall over the viewership.
Geiss' death did serve the purpose of advancing the story of NBC's buyout at the hands of Kabletown (hilarious use of the K), coincidentally a Philadelphia cable magnate.
Meanwhile, Liz had her root canal, and apparently met a guy there and put his phone number in her cell phone under "Future Husband" (he put hers under "Future Wife").
We aren't really feeling this too much yet (or Tracy's attempt to branch out into serious acting), but both plots elicited some laughs and we're excited to see where they go.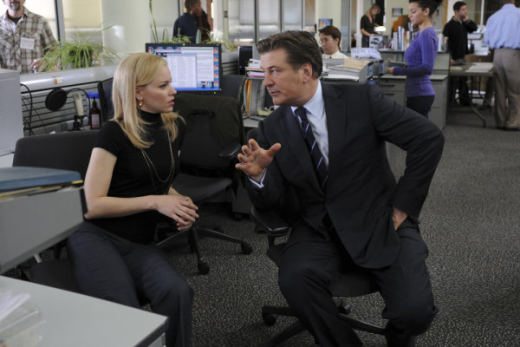 Jack and Avery (Elizabeth Banks) hash out some important business matters.

As jumbled as the episode seemed, give 30 Rock credit for going beyond wacky jokes and visual humor and attempting ongoing plots and references to previous episodes.
One of the funniest moments? In reference to the show's Olympics hiatus, Liz moved her mouth, saying nothing, while Tina Fey said something about skier Lindsey Vonn.
Because they didn't know the results then, of course. So ridiculous and random.
As always, even a somewhat scattered episode that at times falls short of our admittedly lofty standards contained more than its share of hilarious jokes and quotes.
Follow the jump for some classic 30 Rock quotes from last night (and check out our library of lines from every episode in the great comedy's four-season history) ...
Jack: How could a company from Philly buy a company from New York? That would be like Vietnam defeating the United States in a ground war. | permalink
Jenna: If I wanted to see a black man make a fool of himself I'd have sex with K-Fed again. | permalink
Liz: Sometimes everything is just the worst, Kenneth. | permalink
Avery: I'll tell him it's the guy I'm having sex with. It's a 24 hour news cycle around here Jack, we really don't have time to do it right here anymore. | permalink
Jack: Is it Senior Executive Skip Day? Because that's usually in the spring so we can go to an amusement park. | permalink
Jonathan: Maybe we're the last people on Earth. Maybe we are legend. You're Will Smith and I'm the dog! | permalink
Kenneth: It's so romantic, like that movie I only saw the first few moments of, Fatal Attraction. | permalink
Jack, on Don Geiss' book Geiss Cubes: It means the book is full of cubes of knowledge. It's a good title. | permalink
Steve Marsi is the Managing Editor of TV Fanatic. Follow him on Google+ or email him here.

Tags: 30 Rock, Reviews
Want more 30 Rock?
Sign up for our daily newsletter and receive the latest tv news delivered to your inbox for free!
More From TV Fanatic
On tonight's Gang Related, Ryan was forced to make a difficult decision. Which side did he chose?
On the latest episode of Satisfaction, Neil learns an important lesson about being honest with himself from Adriana while Grace struggles on her new job. Read on for analysis.
On Rookie Blue, Oliver turns down extending his contract as Acting Staff Sergeant until Duncan's dismissal hearing turns unpredictable. Read on for more.
On tonight's The Bridge, Marco is made an offer that he initially refuses. Will he agree to go after Fausto?
---