In its first two seasons, Damages spent a great deal of time on three things:
Patty Hewes
Twists
Turns
The show did a tremendous job building up Glenn Close's character, and then focused its efforts on fooling the audience in a myriad of ways. Episodes concluded with cliff-hangers, scenes jumped from the past to the future and back again.
It was mostly effective and interesting, but we're very glad the third season has slowed everything down a bit. By delving deeply into the lives of Joe Tobin, Ellen and, last night, Tom, Damages has revealed itself to be a truly great drama. It knows how to tell a story, not just shock it viewers.
"Don't Forget to Thank Mr. Zedeck" was a prime example of this welcome change.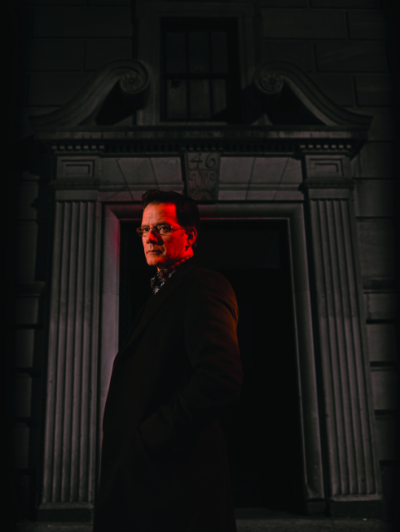 When we first saw Tom's dead body on the season premiere, we were intrigued to learn how he died. Now, we're actually sad!

Poor Tom. He's always been a good father and now we see how financial constraints are taking a toll on his family. Does he arrange to have himself killed for insurance money in the future? Does that cold-hearted advisor have anything to do with his death?

We don't know at the moment, but we do know this: by dedicating chunks of last night's episode to his life, we're now fully invested in Tom's death.

The same thing applies to Joe Tobin. We know more about him now than we ever knew about Arthur Frobisher, and this character development serves the overall storyline very well.

Joe is also a decent family man, confused, angry and stuck in a dangerus position to his fiscal problems. He and Tom aren't really that different and both even reflect the current economic climate.

We even learn more and more about Alex Benjamin each week, though we must admit: we have no idea where this storyline is going. Are there any guesses out there? Is Alex just being used as a pawn between Patty and Ellen, so the former can get inside the latter's head?

It's hard to tell because Patty has been shoved into the background so far this season. But Close's performance is so powerful, she still steals every scene she's in. And by highlighting those around her, Damages simply raises the stakes for whatever Patty has up her sleeve in the end.

Also: welcome back, Keith Carradine!

WHAT DID YOU THINK OF THE EPISODE?

Matt Richenthal is the Editor in Chief of TV Fanatic. Follow him on Twitter and on Google+.

Tags: Damages, Reviews