While predictable at times, Monday night's Gossip Girl wasn't always so, and even when it was, it was pretty terrific all around, with some dramatic developments unraveling.
Perhaps what made "The Sixteen Year Old Virgin" stand out most was the integration of every character into the main story lines, with a few side plots intertwined as well.
The goal for most of the gang was simple: Find J and stop her from cashing in her v-card to that sleaze Damien. The title had us wondering all week: Would she ... you know?
We begin our review with the 16-year-old virgin herself ...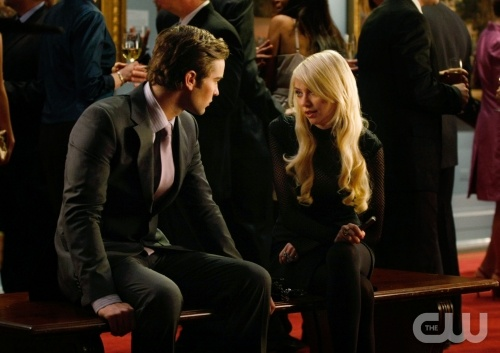 (STILL) THE 16-YEAR-OLD VIRGIN: Jenny is, with a little help from Nate.

By grounding Jenny, or trying to, Rufus was driving her right into Damien's arms. Not that he had much of a choice, really. It was up to Serena and Nate to steer her clear of him.
Jenny has been such a wild card since Season One that we absolutely could have seen her going through with it and giving in to the sleaze's advances. But ultimately she did not.
We're proud of J, and of S coaxing her to give her virginity to someone she loves. The situation forced Serena and Nate to revisit their own past, which was tense but compelling.
Serena accused Nate of employing a double standard by insinuating that losing her virginity was a big deal to a girl like Jenny, while for Serena, it was just some bar stool romp.
They worked through it, though, with S expressing regret about her decisions. It was fun to watch these two tackle a real relationship issue and not just get naked for a change.
Also integrated into the search for Jenny were Rufus and Lily, who appear to be working through their own problems, although it's obvious there's more trouble on the horizon.
We learn that Rufus was in fact true to himself and did not actually cheat on Lily. Similarly, his spouse was also true to herself and lied to him yet again about her trip at the end.
It looks like Serena's father is involved in Lily's mother's recovery, which is confusing. Why hide it from Rufus if it's just for her mom's sake? There must be more to it than that.
Do Cece's medical tests involve Lily somehow? Is Dr. van der Woodsen doing something experimental that Rufus wouldn't approve of? Or is L having a full-blown affair with him?
Regardless, you can tell the truth is killing her, and that no matter how good a liar she is, Lily does love Rufus and hates pulling the wool over his eyes. And yet she continues to.
While Dan tried to locate his younger sister, he also tried to establish guidelines in his relationship with Vanessa - friend zones, friends with benefits zones and the like. Fail, Dan.
These two are actually really good together, and it seems they're realizing it's hard to set up zones when you just wanna go all in. It will be very interesting to see where it goes.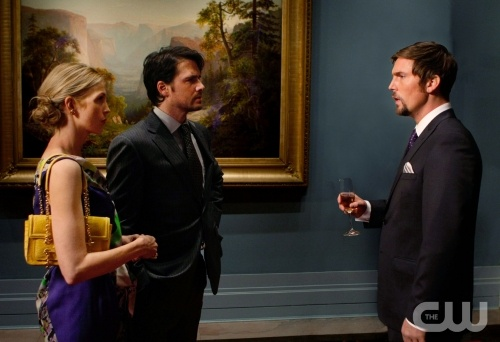 JACK ATTACK: Bart's brother is back and more devious than ever.

Meanwhile, Chuck and Blair were dealing with their own drama in the form of Elizabeth, a sexual harassment lawsuit, a boycott of his hotel and the unwelcome return of Jack.

Something was up from the start with Jack, who suddenly came out of the woodwork insisting he had changed, and even tried to "warn" Chuck about the suspicious Elizabeth.

This was some quality misdirection, because Jack planting the seed in Chuck's mind made him have a DNA test done to establish if she's really his mom. The results say she is.

Why it mattered, aside from Chuck's "mommy issues," was a sexual harassment lawsuit filed against Chuck, who stepped down as head of his hotel to avoid a PR nightmare.

The lawsuit is frivolous and we have no idea who's behind it, but he installed Elizabeth as the interim head of the Empire. But at the end, we learn she was working with Jack!

What's unclear is whether the DNA results were falsified, but either way, she and Jack have clearly conspired to oust Chuck. Even though we saw it coming, we sort of didn't.

What were your favorite parts of last night's Gossip Girl? What did you think of "The Sixteen Year Old Virgin" overall? Leave a comment and vote below!

Steve Marsi is the Managing Editor of TV Fanatic. Follow him on Google+ or email him here.

Tags: Gossip Girl, Reviews