The Wisteria Lane strangler was revealed on this week's episode, and to much disappointment, it is not at all who you may have thought.  While the good neighbors have yet to discover who the killer really is, viewers were privy to this inside scoop on "We All Deserve to Die."
However, before the big reveal, the housewives get a bit more desperate – and caused some trouble for themselves this week. 
Susan, always coming up with a ploy to get ahead and keep everyone's feeling in check, failed to help boost her man's male ego, and instead deflated his manhood by buying him work.  The joke is on you, Susan – now your friend's hubby, is buying you and your man out of financial ruin, and you most likely will be the last to know.  What a long way you've come from your naked fall into the shrubs, and the rescue from the big strong Mike.  Now, it's a bit unclear who wears the pants in this relationship. 
Sounds like nothing but trouble for this dynamic duo is on the horizon.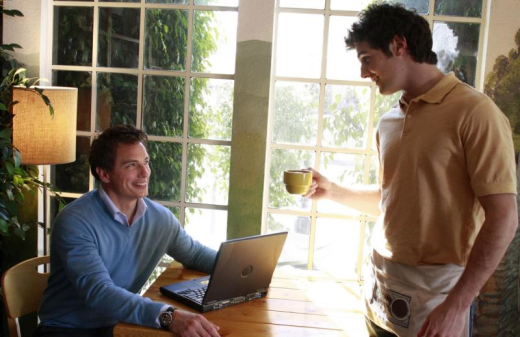 In other desperate news, Gabby is still searching for a way to be number-one, and finds a good option in donating her eggs to her friendly gay neighbors.  Gabby is glowing with the idea of saving the day, AND possibly having her first son.  She shines in this episode as her un-original, clueless and materialistic character discusses with Bob and Lee what kind of outfits their future baby will wear. 

It's decided that she will not allow sequins, and prefers a boy so that she doesn't have to buy any more dresses (God forbid).   Isn't it just shocking that Gabby has no sense of reality and can only focus on clothes?  I mean, after all, it's not like she's a supermodel cliché or anything.

Meanwhile, Bree continues to play the mother hen this week, as she builds her relationship with quasi son, Sam Allen.  Little does she know, Sam has her wrapped around his little finger.  Sam and Andrew still have it out for each other as they battle to win her love. 

Andrew, although all grown up now in his big boy suit, still acts immature and is desperate for attention from his cold-hearted mother.  Bree, always more in tune with the emotional needs of her acquaintances over her own family, starts to realize that she may be getting played by Sam, and will most likely take him to the cleaners very soon. 

With Orsen barely interested in her, and Andrew no longer employed by his mama, its likely independent Bree will be left to deal with this one on her own.

Euro team, Preston and Irena are set to wed this week, but determined mom, Lynette is set to break them up.  Lynette dutifully plays nice... while looking for a way to pull the plug on the upcoming nuptials. 

Visiting the local Russian bridal shop, she helps "pain in the ass" Irena (as pegged by the bridal consultant herself), pick out a wedding dress.  It is there that she finds her nugget of info that will lead to the demise of the young love of mustache-clad Preston and gold-digging Irena.  Poor Preston is saddened by the loss of his sexy Russian fiancé, as Irena saunters off to find the next poor bastard who she will seduce into giving her everything she wants. 

Meanwhile, the strong Lynette cries tears of relief for saving her son from ruining his life.  Knowing that she may have sacrificed her relationship with her son for a period of time by sending Irena on the next boat back to Russia, she gives him an emotional, I will always love you speech.  Little does she know that while she may have saved Preston from a life of ruin and credit card bills, she may have caused Irena her life.  I'm sure Lynette would not agree that Irena deserved to die, but it's too late to save this little lady from her fate.

And just like that, the Wisteria Lane strangler is revealed.  A weak revelation, I must say. Preston's teenage friend, not much more than a background character, steps up as the deranged murderer as he kills Irena after shooting down his offer of a "transition relationship". 

Bitchy Irena who calls him a greasy haired little boy, does not get the last laugh on this one, but gets buried on the side of the road instead.  Sorry, Irena, you lose some, you lose some.  Next up, greasy haired teenage boy's character will be built up so that we can find out what he has against all of the random teenage girls on the Lane.  Maybe it was the lack of the cheesy mustache that has led him to no action. 

Only time will tell, but I'm guessing this mystery won't be too interesting.

Matt Richenthal is the Editor in Chief of TV Fanatic. Follow him on Twitter and on Google+.

Tags: Desperate Housewives, Reviews