The saga of Kayla the surrogate continued on Private Practice last night, with an interesting, personal new wrinkle thrown in: Dr. Amelia Shepherd. Yes, as in that Shepherd.
The McSister, if you will, is a promising young neurosurgeon who is part of a team asked to help Kayla. Man, Addison just can't get away from these people from her past!
Our episode recap has all the details on Thursday new's Private Practice. Below, TV Fanatic reviews and gives you its official rundown on the events of "Eyes Wide Open" ...
If Kayla's condition wasn't dire enough when we left her in last week's "Pulling the Plug," it's getting more intense now. Fortunately, Amelia Shepherd is a force of nature.
Her boss, the renowned Dr. Ginsberg, says she can't help the patient, but Amelia offers a new option of hope. Dr. Ginsberg fires Amelia on the spot, but she still fights on.
Definitely a little bit of Derek in this upstart, isn't there? Bring on the obligatory Grey's Anatomy crossover when we see them interact! Okay, tangent over. Moving on ...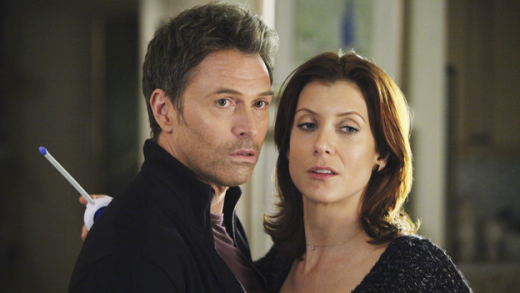 Pete says he's moved on and is happy with Addison ... but is he?

Addison and Vanessa are against the surgery, but Charlotte signs off on it so it's a go. This sets off major tension between and Amelia and Addison, some of it rooted in their history.

When Addison tries to guilt her out of the surgery, Amelia accuses her of settling in her personal life (cold) and with her patients (colder)! Usually unflappable, Addison is thrown off.

After a blood clot puts all three babies in distress, Addison has to get them out and after some CPR, all is well. Sam then gives Amelia an awesome pep talk to carry her through.

Tough love is what she needed and Sam delivered. Bravo, Dr. Bennett. As a result, little McDreamy proved once and for all that big brother isn't the only brain surgeon on the block.

Proved it to us, anyway. Addison lectures her again, this time about getting lucky after pushing what was by all accounts a risky move. Amelia steadfastly stands her ground, though.

An interesting side development to all of this? Vanessa wondering why Sam didn't get her back in the OR. He's totally in love with Addison still. He said it all by saying nothing!

Follow the jump for our take on the rest of the night's drama ...

Sheldon bails on a sex ed seminar that Charlotte asks Cooper to take his place at. It's either going to go very well or very badly, given the strong personalities and history there.

It turns out to be the former. An elderly man named Oscar asks for help with pain he has during intimacy - which they learn is from prostate cancer. He opts against treatment.

Oscar worries about being less of a man, which Cooper can relate to, telling him how he pushed away a woman he loved because he felt he was being emasculated. A mistake.

This convinces Oscar to get treatment after all, and Charlotte is grateful. Cooper apologizes for being a jackass, and while fences are not mended fully, it's leaning that direction.

Fife admits to Pete he slept with Naomi and told her about William. Addison has something else on her mind when it comes to opening up to Pete: His "I love you" last week.

The one meant for Violet in his subconscious.

Pete says he will always love Violet, but that doesn't mean he doesn't love her and he is happy now. So it's all good, right? Right ... until Violet comes to the door! Oh. Dear.

From the look on her face, she came to see Pete ... until she sees Addison, then says with a markedly different tone, "I want to see Lucas." Where do you think this will lead?

Are you excited Violet is back? Did you like Amelia Shepherd? What did you think of Thursday night's Private Practice in general? Comment away below!


Steve Marsi is the Managing Editor of TV Fanatic. Follow him on Google+ or email him here.

Tags: Private Practice, Reviews