Capt Brass: She lost her whole family on that stretch of road. She was out there looking for them.
Nick Stokes: She was looking for a ghost.
This week's episode, "Lost & Found," focused on the effects of how we process and deal with loss.
Janet Marsh effectively stopped living and spent all of her time obsessed with wanting answers to what happened to her son, (her daughter and husband to a lesser degree, as well,) for three years. This put her in a very unstable mindset, as proven when her brother has to remind her to eat and pay bills; and when she snaps and shoots her husband that's been missing for years because she believes killed her son.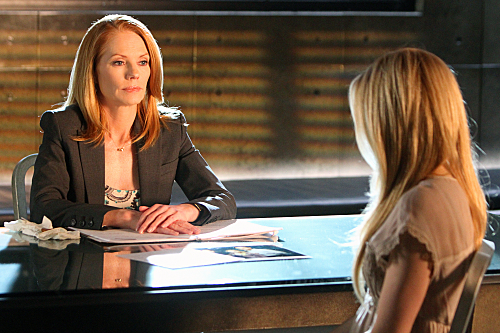 The moral I took from this episode is to get help when you need it. Be it for the loss of a loved one or any other type of loss.

This is a good message, especially given the state of the economy, job market, and housing market. The episode was very well scripted, though I did guess early on that "Uncle Bill" was most likely "Dirty Uncle Bill." I think it is mostly because this plot seems to get used a lot when it comes to "skeleton in the closet involving family member" type stories.

This episode did highlight one aspect of

CSI

that absolutely drives me crazy.

That is, its complete and utter abuse of working in the dark. Is there a power shortage going on in Las Vegas? Was the CSI lab built with no overhead lights? Personally, I have been in several different types of labs and all of them had really bright lighting.

Now, before you get out your torches to flame me, I do understand the need for dynamic lighting. However, there is a huge difference between dynamic lights and working in the dark.  Further, I was watching some older episodes and it seems like the lights have slowly gotten darker over the years. Maybe the electric bill was in Grissom's name and when he left nobody paid it. Whatever it is, I really hope someone figures it out and turns on a few lights!

What do you think? Is the lab getting to dark to work in? Do you agree this was a good episode about finding help? Comment below and tell us your thoughts on the episode.

Jim G. is a TV Fanatic Staff Writer. Follow him on Twitter.

Tags: CSI, Reviews