We're glad the action was back on "The Ballad of Booth," as things heated up for the big season finale next week. 
As predicted, tensions rose, and the desperate get even more desperate – with the biggest drama being preggo Lynette trapped by killer Eddie. 
It looks like Lynette's do-gooder, mommy-meddling self may have gotten into some trouble with this kid.  But being the clever gal she is, we're sure she'll pull off an escape somehow.  I'm hoping for a MacGyver-esque attempt at taking down Eddie – oh, and that she and her baby live through the craziness.  Let's face it.  Tom would be screwed without her. After all, who would put dinner on the table for him every night?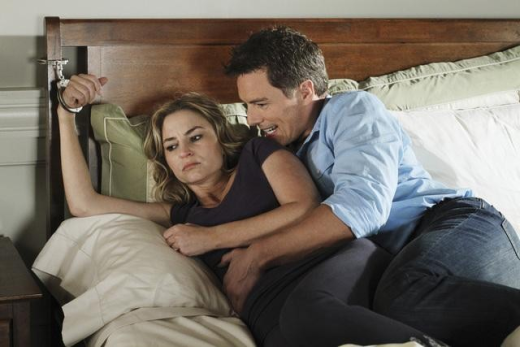 Ditzy Susan also got tough in order to collect money for her man, and we love how she can pull off both the sweet sappy crybaby, and the no excuses, tough gal. 

Unfortunately though, it's not enough – and she and Mike must sell their home. Is this the end of Susan being an integral part of the Lane?  Seeing as it all started with her, we just can't imagine her not being right there with the ladies... so much for their weekly poker games and gossiping over coffee on the front porch. 

It just won't be the same without dear Susan.  Maybe this will leave room for a new housewife – or better yet, the return of a past member of the DH family...

Why is it that Bree just can't seem to win?  This Martha Stewart wannabe may lose her hard-earned career and be forced to forfeit her business to quasi son, Sam.  And this is just the icing on the cake.

To sum it up, Bree's first husband, now dead, had a son she never knew about... who is now trying to take everything she has; her daughter had a baby out of wedlock, who Bree tried to raise; and then lost back to her bitchy daughter.  Her other son, who came out of the closet a few seasons ago, comes and goes only when he needs something, and her new husband, Orsen, was injured by a plane crashing into the lane, losing the ability to walk, and now no longer loves her after finding out about her scandalous affair.

Oh yeah, and Bree's lover Carl was killed in that very same plane crash.  It's no wonder this woman is a recovering alcoholic.

Will Gaby save the day in the finale?  We're looking forward to seeing how she tries to pull this one off. 

She and Angie are BFF's now, after all,after taking a trip to New York to interfere with their kiddo's love lives.  So it is only obvious that Gaby will now save Angie, the bomb maker (seriously, a bomb maker??) from her terrorist ex, who is holding her hostage. 

Although, come to think of it – we're not real confident in Gaby's abilities, so this may just be the demise of Angie... but DH wouldn't let the bad guy just get away with this kind of plot would they? 

It's always sunny on the Lane, so we're used to the ladies coming out on top... but with not one, but two of the wives stuck with crazy men (and not just their husbands, but actual crazy men) we have a feeling there may not be a happy ending this season.

Matt Richenthal is the Editor in Chief of TV Fanatic. Follow him on Twitter and on Google+.

Tags: Desperate Housewives, Reviews
Want more Desperate Housewives?
Sign up for our daily newsletter and receive the latest tv news delivered to your inbox for free!
More From TV Fanatic
On tonight's Covert Affairs, Annie and Auggie switch jobs and head to Paris. Will Auggie succeed in the field with Annie as his handler?
Usually it's insults that get tossed around on The Real Housewives of New York City Season 6 Episode 20 but Aviva threw out a leg. Her own! On the dinner table. We attempt to make sense of the nonsense in our +/- review.
On Perception, Daniel and Kate try to track down a missing baby. Kate also must deal with Donnie's talks about their own future children.
Aria finds some interesting clues as she begins volunteering at Radley while Hanna continues to struggle with Alison's return.
---