The writers of the Lost's season finale could learn a thing or two from watching the final episodes of Justified's first season.

Perhaps I am jumping the gun a bit.  After all, Lost worked well all the way up until the uncharacteristically safe series finale earlier this week.  With two episodes to go, Lost seemed like it was going to tie up a lot of its loose ends just like Justified started last night.

But, there are still two episodes of Justified left and it may well dissolve into a simple ending as Lost did.  Here's hoping it does not.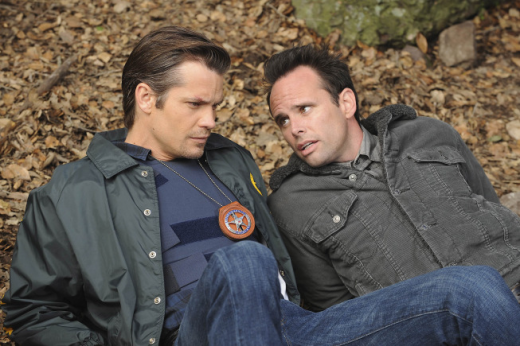 For now we'll focus on the positives for Justified and that starts with the way the writers are weaving in many of the seemingly meaningless stories from the beginning of the show.  We're being set up for a show down between the Crowder's and the US Marshal's office and it seems like many of the characters will play a role in that ending.

Two weeks ago, our old friend Arnold Pinter helped out Raylan by getting him some background information on Wynn Duffy.  Last week, Pastor Fandi came all the way back from the first episode to assist Raylan with Boyd. 
This week one of the former convicts, Hunter Mosley, provides Raylan with some vital information: his father, Arlo Givens, took over Bo Crowder's protection and collection business while Bo was in jail.  The benefit for Hunter was that he wasn't very good at his job, so it allowed Hunter to quell the meth lab business in Harlan while working for the mob on the side. 
Mosley's information opened up quite the hornets' nest for Raylan.  Our hero now has to fight Bo Crowder's protection and collection business, his father's shady doings and whatever it is that crazy Boyd Crowder is up to.  Boyd remains a step ahead of Raylan this week by getting Packer to take the fall for him regarding the meth lab explosion and accidental murder. 
Beyond the enjoyment of watching Raylan's challenges as a law enforcement officer, it has become just as much fun to see how the former characters are being weaved back into the story.  Even Dewey Crowe came back this week after Raylan beat the tar out of him in the series premiere and provided us with another memorable line: "You can't kill a guy for jerking off."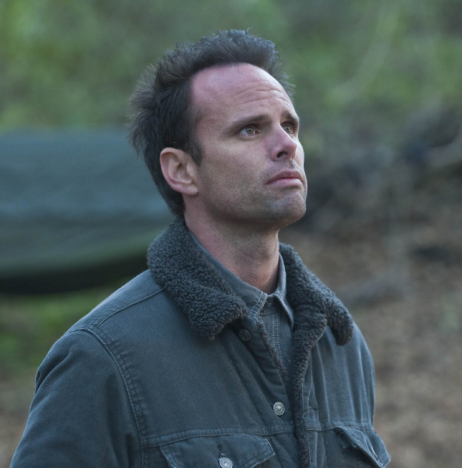 Much like Lost was never going to be able to wrap up all of its loose ends, I doubt every episode of Justified will have some play in the season finale.  Hard to imagine how Shirley or Cooper from the second episode have anything to do with the Crowder's.  While Roland Pike was a fun character to watch in the fourth episode, he's unfortunately dead.

But, someone like Judge Reardon from last week or Wynn Duffy's old boss, Mr. Arnett, could definitely play a role.  I could see Reardon helping Raylan bend the rules in return for saving his life.  Would it surprise anyone if Bo Crowder crossed paths with Mr. Arnett and got in over his head by biting off more than he can chew?

Certainly one entity we have not heard the last from is the cartel.  Their quest to kill Raylan is not over.  Beyond vendettas, if Bo's reemergence and Mosley's imprisonment impacts their ability to move product through Harlan, we can be certain they'll do something about it.  Maybe the US Marshal's office will look away as it happens, too.

Or maybe none of that happens and I'm way off.  Sounds off and tell us where you think the Justified season finale is heading.

Tags: Justified, Reviews