True Blood Season Premiere Review: "Pack of Wolves"
at . Comments
Last night marked the return of my personal favorite TV show! And boy oh boy! Was I ever excited to see my hubby back in action! We've all been counting down the return of True Blood and we can honestly say it was well worth the wait!
"Pack of Wolves" was an intense action packed sixty minutes that not only answered a couple questions, but brought in a whole pack of new ones (pun intended).
First things first - how hot is Mr. Northman?! Yes, I am one lucky girl! Anyone who's anyone should be able to appreciate a good Full Monty. I seriously needed to re-watch that scene a couple times - just in case I missed something.
Okay, so that will be the last you hear of me gushing about my gorgeous husband...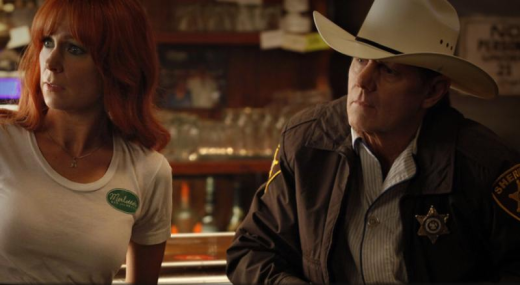 We finally found out who kidnapped Bill - and it wasn't Eric! Why do you think the pack of wolves wanted Bill? Obviously, they purposely went after him, but why? Did you notice that one of the werewolves in the car fell out before it tumbled down the hill? Do you think he made it out alive? Maybe this had something to do with the final scene between Bill vs. the pack of werewolves?
The one person throughout the seasons we constantly feel sorry for is Tara. She grew up with a crazy alcoholic mother, then went to live with Maryann who turned out to be a creepy Maenad who possessed her into eating a heart (among other acts we'll leave out). And when she finally feels like she met the true love of her life - he gets shot in the head. Suicide is never the right choice, but it was understandable why she would want to end her life. Thank goodness  Lafayette showed up when he did! Hopefully, it won't be too late!
The plot thickens with bringing the Magister back! He warns the Queen and Eric that whoever is dealing V will be punished to the highest extent of the law. Do you think Eric will be able to get out of this one? Somehow we feel that Lafayette's life will once again be in jeopardy. Hopefully, the Queen will be the one who gets punished! She really isn't a favorite.
What do you think in Sam Hill Jessica will do with the dead body? If any law enforcement find a drained human - sh*t will definitely hit the fan! Our prediction is that Jessica will go back to Fangtasia and ask for help.
One thing is for sure - we can't wait to see what transpires next and fortunately for all of us Trubies - we have a full summer to enjoy with our favorite Bon Temps Crew!
Follow the jump to read a few of our favorite True Blood quotes from last night's episode!
Bill: I should warn you - I fed. | permalink
Jason: Every time I keep looking at you two I see big ole bullet holes in your heads. | permalink
Pam: You picking up what I'm putting down?
Lafayette: Yes.
Pam: Good, I'll be back tomorrow for the money. | permalink
Pam: Now, why'd you have to go kill that maenad? She was a terrific decorator. | permalink
Jason: What am I thinking about right now - like in my brain. | permalink
Jason: I'm starting to believe that the truth is poison. | permalink
Sookie: Doing this? For the last six hours?!
Eric: You seemed surprised. Is Bill's stamina not enough? | permalink
Tags: True Blood, Reviews
Want more True Blood?
Sign up for our daily newsletter and receive the latest tv news delivered to your inbox for free!
More From TV Fanatic
On tonight's The Bridge, Marco is made an offer that he initially refuses. Will he agree to go after Fausto?
Things go from bad to worse for Molly on Extant as she tries to escape the prying eyes of the ISEA but chooses the worst place for safety. Read on for a full review.
Mike is on a war path, but is he headed in the right direction? Read our Graceland review of "Los Malos" now to find out!
Rachel tells Mike about the kiss as Mike struggles to pick up the pieces after his firing. Read our Suits review of "We're Done" now to find out what went down.
---