Pretty Little Liars Review: "Please, Do Talk About Me When I'm Gone"
by Steve Marsi at . Comments
Frustratingly, last week's Pretty Little Liars cliffhanger about Toby's fate is left unanswered, and this week's "Please, Do Talk About Me When I'm Gone" played fast and loose with the reveals.
While it seemed like Jenna was going to reveal something monumental or damaging to the girls at the memorial, it is actually Jason, Ali's brother, who give us the most head-scratching information.
Regardless, this seemed more like a set-up for future surprises, so there needed to be a little more exposition than action to put the characters into their proper places.
Aria's separation from both her mother and Ezra has given her the opportunity to act like a teenager again. Not saddled by the responsibility of keeping her father's secret or having a boyfriend she can only see covertly, Aria tries to move on with Noel, a former crush.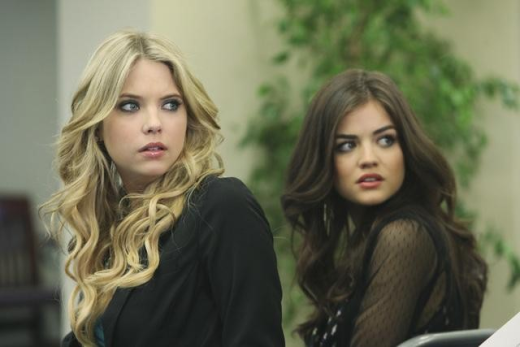 The night may not have been a huge success, but she does seem open to Noel's slow courtship.

Emily's decision to move her relationship with Maya into the open seems like a healthy choice, but she hits the gas a little too quickly. Making out in the darkened theater is far from the discreet Emily who panicked over the lost party photos.

This complete change in her attitude is refreshing, but somewhat reckless. I wonder what her father will think about his openly gay daughter when he returns from Afghanistan, or even her mother for that matter.

Hanna is growing into a much more responsible and thoughtful person. Her flashback revealed how much she wanted to stand up for people like Lucas when Ali was the Queen Bee, just like last week's argument with Mona over Alex. Selling her handbags to help with the finances is definitely a sign that Hanna won't be shoplifting sunglasses any more. Her friendship with Lucas definitely makes her more likable, and one can only hope that she will see him as more than a friendly computer geek.

Spencer's character has been interestingly suspicious from the start of the show. She was the one who discovered that Ali was missing and went looking for her alone, and she has been the most adamant about keeping their secrets. When Jenna tells her that Ali was afraid of her, you almost believe that it might be true.

However, with Jason's revelation that Ali was trying to pin the "Jenna Thing" on Spencer, it's clear that Allison was the master manipulator.  Why was Ali trying to push her brother's attention onto Spencer? It seems like there was more animosity between the two during Ali's last days than previously suspected.

Most importantly, Jenna's speech is actually fairly nice. She admired Ali's strength and speaks warmly about her. What were the girls so worried about? Oh right, they accidentally blinded her.

Even though Toby is still missing, his character was mentioned as part of some major developments in the Allison's murder case.  The detective claimed, under pressure from Jason, Toby, or someone using Toby's cell phone, made a call to Ali on the night she disappeared and she answered. Where is Toby to explain this?? The police searched Toby's locker, but we'll have to wait and see if anything of interest was found.

Instead of answering the Toby question, another mysterious character blows into town. Melissa's Ian shows up at the memorial. What role will he play in the upcoming episodes?

What did you think of last night? Comment and vote below!

Steve Marsi is the Managing Editor of TV Fanatic. Follow him on Google+ or email him here.

Tags: Pretty Little Liars, Reviews