Is Emily really dead?!?
Pretty Little Liars concluded "There's No Place Like Homecoming" with a scene that was suspenseful in its concept, but not as much in its execution.
I was very much on the edge of my seat as the girls gathered together and learned Toby's major secret - he was sleeping with Jenna!!! - and then tried to track down Emily to warn her. But the subsequent chase scene between her and Toby was clumsy, and the final image was more ambiguous than intriguing.
She just... fell?
They also cut to a random shot of Jenna standing around the fun house mirrors at one point. Sometimes, the show mistakes randomness for mystery. It can just tell a good story and not have to worry about throwing unexpected images at viewers. All that said, I obviously can't wait to tune in next week and see where this all goes.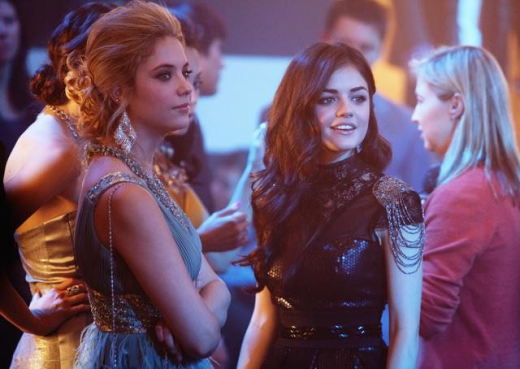 As for other developments, Maya isn't growing at all on me. I don't buy her relationship or her feelings for Emily. I simply roll my eyes every time she opens her mouth.

Conversely, I very much like the idea of Mona threatening Hanna. It's nice to see the latter evolve a bit and realize what it's taken for her to rise to the top, only for her underling to make it clear that she won't let Hanna take her down again.

But my favorite new character is clearly Lucas. He cracked me up with every self-deprecating line. He reminded me of Steve Carell in The 40-Year Old Virgin, a dork who knows he's a dork and comes across as attractive and cool for having such confidence. Make his dreams come true, Hanna! Invite him to bed some time!

I don't buy anything about Spencer's family, though. Melissa seems utterly one-dimensional, exceedingly cruel to her sister at all times for no reason. Give us some background on this individual if you wish for her to play a key role on the show.

In closing, Aria and Ezra still bore me. It's not a fun storyline if he's simply a nice guy who gives romantic speeches and apologizes to her after every fight. This would be far more intriguing if we actually saw a dark side to Mr. Fitz and Aria had to deal with that, as opposed to a mere crush by an older man.

What did you think of the episode? Let me remind those that have read the books: NO SPOILERS from them, please! It's not fair to viewers. You may discuss spoilers in our forum section dedicated to them. Thanks!

Matt Richenthal is the Editor in Chief of TV Fanatic. Follow him on Twitter and on Google+.

Tags: Pretty Little Liars, Reviews