This week's episode, "Mild Mannered," literally played to the comic geek in me.
My compliments to the writing staff for all the little nods to the comic book world, including an artifact named after Jack Kirby (the co-creator of X-Men, along with many other famous comics). For those with a quick eye, you will also have seen Wonder Woman's lasso, Thor's hammer, and Green Arrow's bow in the warehouse when they stored the trunks from Sheldon in the warehouse.
This episode also explored some new ground, with Myka and Pete trying to make Leena's Bed and Breakfast feel more like home. This was not something we saw much of last season and it really helps round out the characters a bit more and gives us a stronger attachment to them.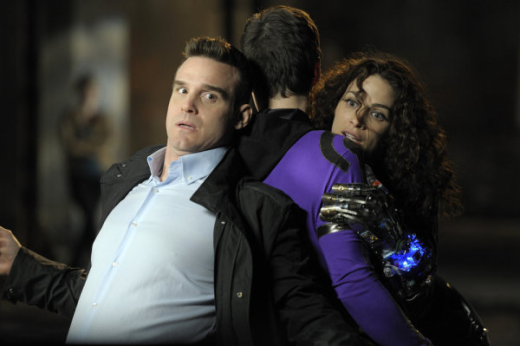 I am sad that with both Jewel Staite and Sean Maher guest staring on the show they did not work in even one good Firefly or Serenity reference. Given all the pop cultural references from comics, including going to a gaming store, you would think they could have given a little nod to the show that gave these two their start.

That complaint aside, it was great to see both of them on the show. They still have such great chemistry together. I though Loretta was a great "Lois Lane" for Sheldon's "Iron Shadow" and I am very glad it had a happy ending with them being together.

We also got to see Leena and Claudia make up and Artie get to say goodbye to the man that was his partner, James MacPherson. As I mentioned last week, MacPherson was a great villain for the show, replete with a lot of depth and history. I am still very sad that he was killed off so easily.

Getting to see Artie explore his true feelings for James and seeing him miss the man that was his partner before he went rogue was very touching. It reminded me that MacPherson didn't believe he was evil, he believed he was in the right and was doing what he needed to. 

H.G. Wells has some very big shoes to fill as the nemesis of the warehouse!

I hope that the writing continues to be this good, with a mix of heart, a little intrigue, and a lot of great action!  What did you think of this episode? Did you catch all the little references? Were you glad that Claudia and Leena made up?

Browse through a few Warehouse 13 quotes from it as you comment away!

Jim G. is a TV Fanatic Staff Writer. Follow him on Twitter.

Tags: Warehouse 13, Reviews