White Collar Review: "Need to Know"
at . Comments
The follow up episode to the much anticipated second season of White Collar was.... - well, pretty decent, but nothing compared to last week's. I am a huge fan of this show because I love seeing the dynamics between Peter - Neal - Mozzie, but there's always that underlining problem of the week that gets magically solved within sixty minutes.
Granted, I loved seeing a sleazy politician like Jennings get what he deserved and it was really great watching the interactions between Diana and Neal. Could there possibly be something blooming here? It most likely isn't romance because she prefers playing for the other team, but maybe Diana feels a connection for Neal?
It is pretty clear that Diana has the music box because she and Peter are trying to track down the man who blew up the plane. But, my question is - why would they keep this a secret from Neal?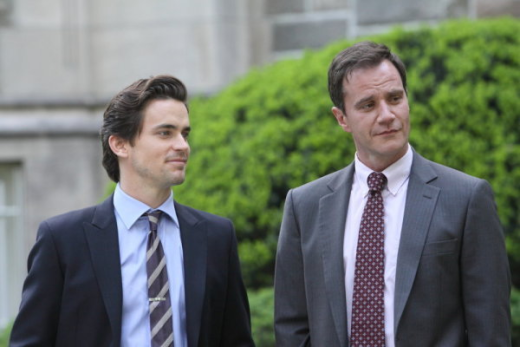 Peter and Neal's relationship has come a long way since the first season and by the looks of it, both parties really care for each other (dare I say it's a bromance?!). It would make sense that Peter would want to solve this case because it means so much to Neal - so why keep Neal in the dark? One thing is for certain, if Neal was there the night that the mystery man got away, wouldn't they have had a better chance in catching him?
Speaking of the mystery man - who do you think he is? Do you think Fowler is behind it OR could there be an even bigger head honcho? My guess is Fowler has someone larger than him that he has to answer to. Whoever this person is, wanted Neal dead and I wouldn't be surprised if they try to kill him again.
I know Elizabeth (Tiffany Thiessen) is away on business - but, C'Mon! Couldn't they have a better storyline for her?! Many shows deal with their main characters getting pregnant, so what is the big deal? It almost seems like Elizabeth is non-existent.  I know that I am not the only one pulling for something drastic - dangerous - or sexy to involve her character!
Mozzie once again brought it with the humor. I love the interaction between him and Peter. Their wild goose chase to find the money was brilliant and I love how in some way, Mozzie is always apart of each case.
What did you think of "Need to Know"? Leave your thoughts and opinions - we love hearing from you! 
Follow the jump to read a few of my favorite White Collar quotes from last night's episode.
Neal: I think we should stay here...
Mozzie: Hey Heff! | permalink
Neal: So that's a no to the champagne bath? | permalink
Neal: It's really exciting in the van. | permalink
Peter: How's your first day at work?
Neal: I've taken up smoking.
Peter: Politics is already corrupting you. | permalink
Peter: You don't get to Shh me. | permalink
Neal: Politicians were the original con men. | permalink
Tags: White Collar, Reviews
Want more White Collar?
Sign up for our daily newsletter and receive the latest tv news delivered to your inbox for free!
More From TV Fanatic
This week on The Last Ship, Danny gets sick and the crew begins to panic. Is it the virus? Meanwhile, Rachel's vaccine trials continue to fail.
Who was able to successfully problem solve on The Rachael Ray Show this week? Find out now in our review of Food Network Star.
The Masons are reunited on Falling Skies Season 4 Episode 6. Will it be a happy or contentious reunion?
What took place on The Real Housewives of New Jersey Review this week? Read our rundown to find out!
---