At one point on Monday night's episode, Rand yells at her enigmatic father, "What else are you hiding?"
This question could have been posed to any number of the characters. In preparation for the camp's weigh-in, and in avoidance of last week's events, most of the characters were wearing their poker faces. This was an emotional weigh-in for most characters, even those extremely old-looking extras, but the really interesting developments didn't take place until the last ten minutes.
Shay returns from dealing with her daughter's medical emergency. This is a big surprise to Rand who didn't even know she had a daughter. Shay has been a minor character thus far, but she remained somewhat distant this week despite having a really rough scene with Piznarski.
Piznarski has been cranking up his clown routine as of late, either over jealousy of Trent or Chloe, and his antics finally pushed Shay over the edge. She berated him in front of the other campers, reducing the comic-relief to tears. As Will says, "I hate crying in public... or in private."
She defends herself to the other counselors, calling it an act of caring, but doesn't drop her walls, not even when discussing her daughter's illness. Only when she is alone (except for the unseen Piznarski) does she finally break down and cry a little after speaking to her daughter. It's refreshing to see another angle on an otherwise flat characterization of the camp trainer.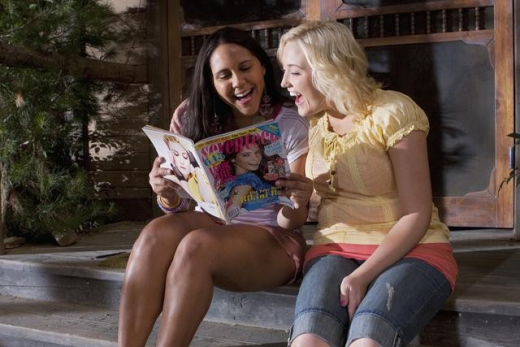 [Photo: ABC]

Rand, fresh out of a great first date, is much more relaxed (you can tell by her loose hair and breezy attire). Her biggest obstacles this week were a continually difficult camper named Will and the still unanswered mysteries of her father, Chef Joe.

After seeing a tattoo of the name Joyce (in a heart no less) and hearing about his poker game with the campers, Rand must face the fact that she knows very little about the man she hired. His gambling cost them their home when she was a child and he abandoned his family, but their new start hasn't given them a chance to rehash the past yet.  If Rand is going to continue her progress towards some inner peace, she will need to confront these issues.

Not surprisingly, Will is hiding a lot, but mostly from herself. She refuses to be ruffled by weigh-in because she still claims to not care about losing weight. However, as many characters point out to her, she has been committed to the program. She initially claimed she would gain weight, but clearly hasn't.

She hasn't touched her food stash since the first week. Even her attitude has been less abrasive. When confronted with all this information, Will decides to hide behind her walls again. Will tears up her weight-loss card and throws it Rand's face, a move designed to show her defiance of the director's weight-loss ideals.

Will's actions may make her feel more like her old self again, but they hurt her closest friend…again. All Becca wants on the day of weigh-in is a supportive friend, but she doesn't get that from Will. Confronting Will after a particularly obnoxious post-weigh-in comment, Becca remarks, "Why can't you just be happy for me?" Will's reply is sufficiently selfish for her character: "Because I don't want to get infected by this crap."

Well, she has been infected, and it's actually given her close friends, a healthier diet and workout routine, and more tolerable attitude. But apparently, these aren't things she wants from life.

On the other side of camp, George is hiding from his feelings for Amber. He feels responsible for their kiss, as he should since he is the adult in this situation. However, his avoidance tactic makes Amber feel like she has done something wrong.

Things become worse when Amber finds out she only lost one pound. Amber has been notoriously secretive throughout the camp, not even opening up during the group therapy sessions. She doesn't seem to have anyone she can confide in, and her disappointment over the lack of weight-loss causes her to hide away in the woods.

George picks an awful time to discuss their kiss, and to basically cut off their relationship. She blames her weight, which causes George to try and comfort her. This, of course, leads to more kissing. George claims that they can't do this... here. But in the forest is perfectly acceptable, especially where Will can stumble across them. George may be undeniably attracted to Amber, but she needs more than kissing partner.

Amber needs an opportunity to open up about the things she's hiding, and it doesn't seem like she has that yet.

Check out a few Huge quotes from it now and then chime in: What did you think of the episode?

Tags: Huge, Reviews