The season finale of Huge arrived this week with more angst and more family dysfunction.
The final episode attempted to tie up the show's burning questions about the relationships between various characters, while still leaving some uncertainties to keep us tuning in next season. Again, the show suffered from some fairly predictable resolutions, with a couple of "finally!" moments, but most of the characters grew up in some very believable ways, even Will. Whether or not this will make viewers eagerly tune in next season is still unclear.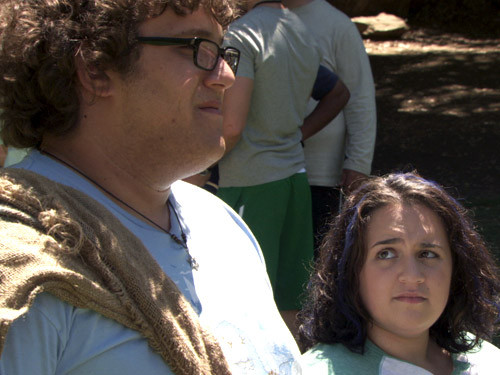 [Photos: ABC]
Dr. Rand hears some disturbing news from Shay about her father's upcoming departure from camp. Furious about this second abandonment, she confronts Joe, but softens when she finds out why he's leaving. His second daughter, Violet, needs him and this desire to be a better father helps Rand cope with her own loss.
The two have had a shaky relationship, but Rand seems to accept that she cannot expect their time together to replace her crappy childhood relationship with Joe. She can only hope that Violet will get a better father.
Chloe is able to get her introduction to Trent's family just by being the sweet girl we know she's capable of being. By complimenting Trent's musical ability, instead of trashing him as she has every right to do after his behavior last week, she gives Trent a chance to shine in front of his father by playing with Ian and Will.
This act of caring on her part is bolstered by her moment of self-awareness with Becca. She admits to dumping her old friend because she wanted to hang out with the cool kids: "[It} makes me a bitch, I know that... I wanted to be different, like a different person." Becca understands the need, and Chloe is somewhat improved by her willingness to admit her character flaws.
We last left Will and Amber attempting to find the secret stash of food, which was buried in the woods. When this proves unfruitful, they break into the refrigerator and steal some brownies. The two bond over their respective parental issues and romantic entanglements (Will is not as subtle as she thinks when it comes to Ian), but Will, rightfully so, is disturbed by Amber's borderline eating disorder.
They find some common ground, but it's clear they won't be close friends any time soon, especially when Amber gets a little too comfortable with Ian.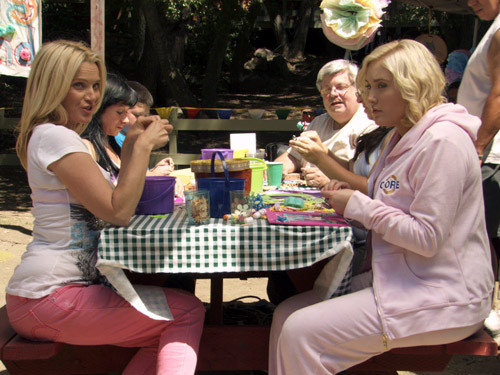 Amber's disruptive mother continues to embarrass her daughter with her emotional outbursts and inappropriate flirtations. When she begins hitting on Ian's soon-to-be-divorced father, Amber flees in humiliation; but, Ian follows her and comforts the mortified Amber. He admits to having feelings for Amber and the two share a couple of kisses.

Their relationship is pretty tenuous, especially since Amber is still hung up on George (who admits to himself that he loves her as well). It looks like Ian might be getting set up for a huge disappointment and for a huge fight with Will.  A moment of friendly hand-holding at a campfire sing-a-long indicates a closer bond between them to the viewers and to Will.

Will's reaction to the pair is exactly what we would expect after watching her continually mask her real feelings with blind anger and exasperating sarcasm. Perpetual doormat Becca tries to comfort her friend and is met with the same attitude and irrational anger.  Finally(!), Becca sticks up for herself, "I am so damn sick of trying to be your friend…I am done being your second choice."

Well done, Becca! Perhaps Will has finally gotten the rude awakening she needed about her behavior. Will's position in the camp and with her friends is left a little uncertain, but Rand refuses to give up on her. As Rand continues to be honest with Will about the benefits of losing weight (you just hate yourself less), it seems her perseverance might finally be paying off. The two share a quiet moment of peace under the star-filled night sky.

Just a quick note, what was with Alistair's strange behavior this episode? He is incredibly aloof with Dante about his apology note, but that isn't so unexpected based on the latter's cruel joke.  Then, he cuts his t-shirt into a more feminine style and poses in front of the mirror with Trent's stepmother's missing necklace. Why?

This was probably the only moment on the finale that drummed up some curiosity about next season. What did you think?

Tags: Huge, Reviews