With about five minutes remaining in last night's True Blood, I was ready to write it off as a slow episode, not poor by any means, but focusing on the emotional ramifications of the last few weeks.
Then, Eric killed Talbot. And Jessica happily gorged herself on a werewolf. And Sookie tussled violently with Debbie before banging the living heck out of Bill.
Or the unliving heck, really. It's safe to officially say: there's no such thing as a slow episode of True Blood.
When all was said, done and bloody, "Night on the Sun" featured even more sex than the typical installment (Talbot/Eric, Lafayette/Jesus, Jason/Crystal, Bill/Sookie) and helped bring a few characters and developments together. The stage is clearly being set for the season finale, as Crystal's world has now intersected with Sam's, and Eric has taken his first step of revenge against Russell and the werewolves.
But how will he take a few more? Russell will be on the war path against him now, and this 3,000-year old king (and his silver spurs) can't be stopped easily.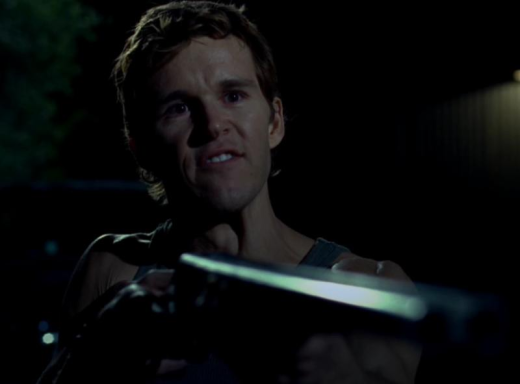 My only complaint about the episode, and season in general, is that my interest in the Sookie/Bill/Eric/Russell storyline is so strong, it makes everything else feel like filler. I'm curious what the heck Crystal is, but Jason's dim-witted hero complex has run its course a bit.
Nothing about Sam and his family is particularly intriguing, and I'm especially sick of Tara crying in every scene. For her sake, I sincerely hope Rutina Wesley is paid by the tear.
Conversely, I can never get enough Jessica. My fear that she would actually be killed off during the climactic battle turned into excitement when she followed Bill's advice and came out on top of that werewolf - literally! - happily gnawing away at his flesh.
Other questions/observations about the episode:
Is Debbie a Shifter?
Will we see Alcide again this season?
"Hi Jesus. I've gotta go pee." Lafayette's mom cracks us up.
Speaking of Lafayette, are we meant to understand he actually has a unique strong power? Or was Jesus just referring to the overall force of his personality?
Welcome to Merlotte's, Holly. Are you sure no other establishment is hiring? You may be underestimating the dangers associated with this place.
What did you think of "Night on the Sun?" We've listed a few of our favorite True Blood quotes from it below:
Bill [to Russell]: Are you a coward, or are you just lazy? | permalink
Russell: Poor Talbot. Are your diamond slippers chafing? | permalink
Alcide: You can read minds and shoot light out of your fingers. Who am I to tell you what's best for you? | permalink
Arlene: That's Tara. She's all bark and, well, she bites, too. | permalink
Jason: You got no right being in my head. That's... trespassing. | permalink
Debbie: She's a c**t.
Russell: But she's a special c**t. | permalink
Matt Richenthal is the Editor in Chief of TV Fanatic. Follow him on Twitter and on Google+.

Tags: True Blood, Reviews
Want more True Blood?
Sign up for our daily newsletter and receive the latest tv news delivered to your inbox for free!
More From TV Fanatic
Join us for the One Tree Hill Rewatch of Season 1 Episode 4! Ready to relive the fun drama?
Power struggles ensue all around Chester's Mill on Under the Dome. Lives will be put on the line.
Scott decides to get tough on Teen Wolf after rescuing his Beta by declaring he won't sit back and watch more deaths. Find out what else went down in the review!
Heather and Tamra consider making peace with Shannon on The Real Housewives of Orange County. See what went down in our TV Fanatic review!
---