White Collar Review: "In the Red"
at . Comments
Sara was back for another episode last night - and what more can I say then I just love her character! She is a no nonsense, take no prisoners lady who knew that Neal was up to no good.
It was wonderful to see her not give up on finding out what Neal was up to. But, how was she able to get a search warrant when he was able to pass the lie detector test?
Side note, that whole scene where Neal was able to pass the lie detector test - was pretty cool! Is that really a way to do that? And why didn't anyone catch Neal taking the pin? It was pretty obvious if you ask me!
I definitely can feel some sexual tension between Neal and Sara - particularly when he opened the door shirtless. Did you catch the way she was looking at him? He really is one gorgeous specimen of a man...
Is it getting hot in here??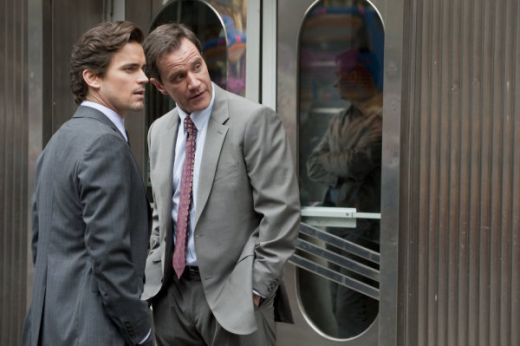 Okay okay, I certainly like how the "In the Red" storyline started with catching a jewel thief - a pretty common white collar crime - to busting a man who extorted money from the thief so that she could keep her child. Sounds a bit confusing - but one thing is for certain, the show was highly entertaining.
It was fun watching Jones and Barrigan go undercover as a married couple. In the last couple episodes we've seen a funny side to Jones that I really like! He's actually really good at pretending to be undercover - from the bad tough guy one week to the rich Hampton man another - it has all been very amusing. Keep up the good work Agent Jones!
In a special treat John Larroquette starred as the ever elusive extortionist. I've loved this man since Night Court, but wasn't that impressed with his acting chops last night. The scene where Donovan was captured and forced to admit he was the extortionist was a bit rushed - don't you think?
And would the mob guys really be willing to work so closely with the FBI? I was surprised by that too. Although, it was pretty enjoyable watching them fake beat up Neal.
Neal finally got to listen to what was on the tape and evidently Kate really was killed - but she made a call seconds before. Now, who do you think she called? Do you still think there's a possibility that Kate is alive?
This episode was absolutely fun - without question. White Collar is a must see show and personally I can't wait to see what happens next week. What did you think of last night's episode?
Follow the jump to read a few White Collar quotes and don't forget to let us know what you thought of it - we love hearing from you!
Elizabeth: All that pent up animosity leads to sparks. | permalink
Peter: Look at you two - did I take on a case from the Hamptons?
Diana: We look good. | permalink
Mozzie: How did she know someone broke in?
Neal: I don't know - a hundred failed attempts at her key pad? | permalink
Peter: That's great - what happens when he realizes he has your phone in his pocket?
Neal: He better keep his hands off my rollover minutes. | permalink
Mozzie: How often do you say thank you?
Neal: Sarcastically? | permalink
Tags: White Collar, Reviews
Want more White Collar?
Sign up for our daily newsletter and receive the latest tv news delivered to your inbox for free!
More From TV Fanatic
On tonight's The Bridge, Marco is made an offer that he initially refuses. Will he agree to go after Fausto?
Things go from bad to worse for Molly on Extant as she tries to escape the prying eyes of the ISEA but chooses the worst place for safety. Read on for a full review.
Mike is on a war path on Graceland... but is he headed in the right direction? Read our review of "Los Malos" now to find out!
On Suits, Rachel tells Mike about the kiss. Where did it go from there? Find out now!
---