Thankfully, 90210 dealt with a bevy of serious issues on this week's solid episode. Issues such as Ivy's virginity and Annie's eggs have given our staff plenty to analyze in this week's edition of the 90210 Round Table.
Let's get right to it! Join in on the discussion in our Comments section and/or 90210 forum...
Will Annie hands over her fertile eggs?
M.L. House: I really have no idea. I'm still trying to come to grips with the idea of someone thinking Annie has a good body. Who knew skin and protruding bones was considered attractive?!?
LJ Gibbs: I can see the family needing money because Deb is now a single parent, and how much child support can a principal really offer? So Annie will consider it. But no way she goes through with it in the end.
The Barnacle: Of course not. What a ridiculous, far-fetched, out-of-left-field idea. Is this show incapable of delivering logical, consistent storytelling that actually flows?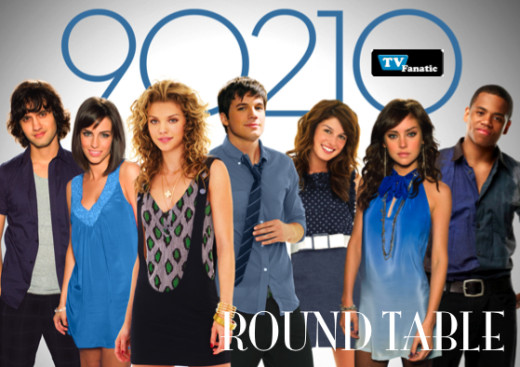 Is Naomi dead?
M.L. House: See, this is why I hate overdose cliffhangers. Sure, it brought much-needed gravitas to the rape plot... but we all know Naomi will be fine next week. I'd rather have an episode conclude with something that actually has me wondering how it will be dealt with on the following episodes.

LJ Gibbs: No, but that really isn't the point. This character went through the worst experience a girl can go through. Just because we know she'll survive the overdose doesn't mean it's not worth showing how affected she is by the rape.

The Barnacle: I doubt it. But AnnaLynne McCord's acting career soon will be.

Should Dixon forgive Ivy for her lie?M.L. House

: Yes. There's a difference between lying out of pure deceit and lying out of shame. Ivy's false story about her first sexual experience clearly falls into the latter category.

LJ Gibbs: I understood where Ivy was coming from, but I was still ready to say no - just because sex talk between a couple always has to be open and honest - but then I moved in the other direction when we learned about her father. Such a revelation/admission was a major step for the character.

The Barnacle: Does it even matter?!? These two will find something else to fight about next week.

Are you surprised that Teddy is gay?
M.L. House: Of course not. The show gave away this storyline weeks ago.

LJ Gibbs: I'd like to think this was planned out from the moment Teddy arrived - remember, he did get kicked out of a private school for covering up for a friend... perhaps that was a lover? - but producers have already admitted it was just conjured up this summer. So I'm not surprised by it, nor am I really looking forward to it.

The Barnacle: Yes. But hopefully he can now lead the charge against Prop 8 in Beverly Hills. Gay marriage should be legal!

Matt Richenthal is the Editor in Chief of TV Fanatic. Follow him on Twitter and on Google+.

Tags: 90210, Round Tables