Thank you, 90210!
A week after I complained about how mundane and boring the supposed drama on this primetime soap opera had become, "2021 Vision" took the focus away from petty relationship issues and gave us storylines with legitimate consequences.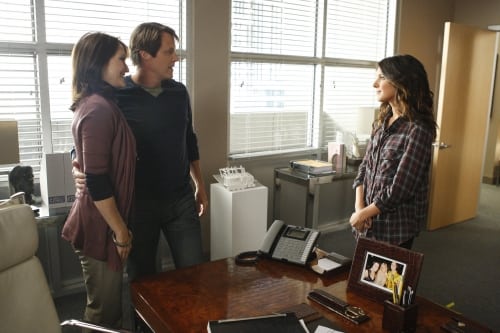 First, Oscar is more than just a horny teenager all of a sudden. He's a man with an agenda that is even shadier than simply trying to break up Ivy and Dixon. He wants to ruin the former's life, and he seems like the kind of guy capable of going to any length to accomplish this task.
Then, we have Annie and her internship boss. Is it utterly ridiculous that a couple would choose the eggs of a high school student its known for a few days in order to bear a child? Yes, almost as ridiculous as the notion that Shenae Grimes has a good body (sorry, but I don't find skeletons attractive).
Still, give this development props because it took me completely by surprise. I expected the couple to ask Annie to star in some play, not help them bring a baby into the world. When a plot twist truly takes you by surprise, you've gotta at least give it some credit for originality.
Conversely, I wish the show had not ruined the Teddy storyline over the summer. In a desperate plea for headlines, producers talked openly about the plan to make this character gay, making everything surrounding his character totally predictable. I don't buy it as anything but a ratings stunt, but I'm more perturbed by the fact that it was given away months ago.
What's the point of watching a TV show when the writers simply tell us what's gonna happen?
But let's conclude this review on a couple positive notes:
90210 has made Mr. Cannon sufficiently creepy. The scene between him and Silver, as he waited for her to drink her laced tea and she flashed back to Naomi quoting his movie, was tense and well done. I could have done without the 769th overdose in primetime history, but this plot is moving along well. I'm glad it's being treated with the proper amount of gravitas.
I'm also glad someone is on to Adrianna. It was silly of her to think no one would have been award Javier wrote that song and I envision some sort of blackmailing to result from her thievery.
Overall, I applaud 90210 for avoiding lame issues such as body shots in a bar. From Ivy opening up about her father, to the mere idea of students talking about their lives in 10 years, there was a focus on weighty topics this week. Were you as happy as I was to watch them develop?
Matt Richenthal is the Editor in Chief of TV Fanatic. Follow him on Twitter and on Google+.