We loved the season premiere of Gossip Girl.
Beginning in an exotic locale in the aftermath of the previous season finale, "Belles Du Jour" continued the trend of seasons two and three, but was superior for several reasons.
First, the Parisian setting marked new territory for the show, specifically for Blair and Serena. For the former, it's a part of her legacy. For the latter, a part of her transition.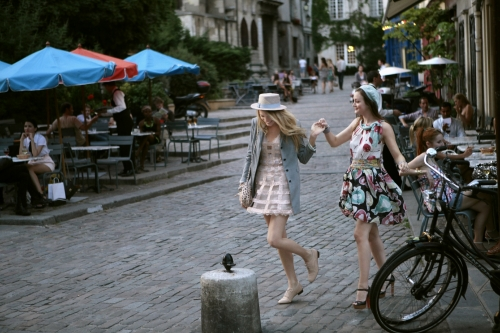 The episode did a terrific job of picking up the pieces from last May and charting a course for the new season, splitting time between picturesque Paris and the familiar UES.
For S, that meant turning the page. For B, living with the pain of what Chuck did. Despite being in a place she cherishes so much, the queen still feels out of her element.
That's because the devastation of Chuck's actions still lingers, and despite her best efforts, she can't shake him ... or the fact that she feels trapped in Serena's shadow.
The revelation that S is going to Columbia now certainly didn't help matters.
These two will always be close, but will always be at odds. It's a complex friendship, and we love watching it evolve, especially when it involves the occasional dip in a fountain.
As for Chuck, we learn that he survived the Prague shooting, but what happened this summer remains shrouded in mystery. He has a new companion, Eva, and goes by Henry.
Does he have amnesia? Or has he assumed, subconsciously or otherwise, a new persona, aided by someone who isn't used to his world, and someone who won't judge him?
It was great, in a way, to see so little of Ed Westwick this week. It made his scenes all the more powerful, and added to the intrigue of Henry, Eva and their new life together.
Next week, we'll learn the truth when Chuck's whereabouts alarm Lily and Serena, and Blair will reunite with him in the City of Light, confronting the man who broke her heart.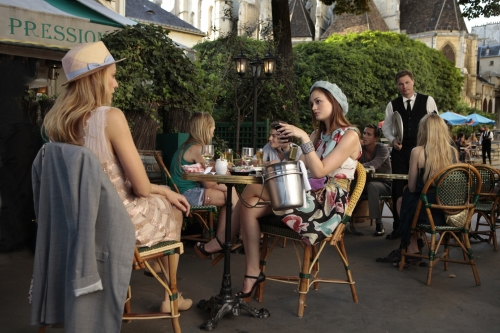 Meanwhile, in New York, Nate is taking a page from Chuck's book - literally - to numb his pain. Except thumbing through the little black Bass book isn't really doing it for him.

It takes a chance run-in with Juliet Sharp (guest star Katie Cassidy) to make him realize that he's not over Serena. We could tell immediately that Juliet has her own agenda.

The question is what. There's chemistry between them, but is it all part of some devious plan to ruin Nate ... or Serena? The final shot of Juliet's bulletin board was awesome.

We thought for a split second that she just might be Gossip Girl herself. While that might be a stretch, Juliet is clearly plotting something elaborate and we're hooked on her.

On the Humphrey front, Jenny is in Hudson, having been banished and/or having fled for her after thwarting Chair's engagement and stabbing about a million fans in the gut.

Dan might wish he could run away. He's LIVING WITH GEORGINA and her baby, who she says is his, and Dan sure acts like he's Milo's dad - although there has been no test.

The fact he's going along with this, and kept it secret from everyone until Vanessa eventually busted him, is dubious to say the least. Does he simply not want to know the truth?

Either way, his sleep-deprived interactions with V provided some of the night's comic relief, and watching disheveled Dan try to keep up his facade and care for Milo is hilarious.

We also can't forget this is Georgina Sparks. Her manipulative powers are well documented. It's still unclear if the baby is a Humphrey, and her actions are beyond suspicious.

Remember how Blair, Dorota and Vanya had her shipped off to Eastern Europe? Well, at one point G has a strange phone conversation in a different language when she's alone.

She is so shady and we love it so hard.

It will be difficult to top three big mysteries set in motion, the introduction of Katie Cassidy and healthy doses of humor and Parisian fashion, but hopefully this is just the beginning of a terrific fourth season. Travail bien fait, Gossip Girl.

What did you think of the Gossip Girl season premiere? What do you think will happen next? Comment below, and vote in our survey if you haven't already ...

Steve Marsi is the Managing Editor of TV Fanatic. Follow him on Google+ or email him here.

Tags: Gossip Girl, Reviews