Welcome back to TV Fanatic's Gossip Girl Round Table, where our illustrious panel reflects on the events of the fourth season premiere, "Belles Du Jour."
Below, Gossip Guy and Mister Meester offer their take on Monday's quotes, twists, and burning questions. Our fearless leader, DANdy, will return next week.
~~~~~~~~~~~~~~~~~~~~~~~~~~~~~~
1. What was your favorite Gossip Girl quote from last night?

Gossip Guy: We all know this goes against everything I stand for, but I have to give it to V for all her witty Georgina lines, but the best one was "you can't trust anything that comes out of her mouth, let alone anywhere else." Hehe, she was referring to her Geor-gina there.
Mister Meester: Any exchange between Dan and Vanessa, or this gem from Serena: "I wouldn't worry about Chuck ... any normal summer he's drunk on some island where polygamy is legal. Given everything that happened it makes sense he's gone rogue."
2. Was this the best season premiere of the four?

Gossip Guy: While the Paris opening was way better than season three, I still have to give it up to season two in the Hamptons. Those were the days.
Mister Meester: Aside from the pilot episode that got us hooked three years ago, I'd say yes. The music, the montages, the city (both of them) ... Blair in her element and the rebirth (in a sense) of Chick ... The return of Georgina, the introduction of Juliet and some seriously scandalous new stories ... I think it's safe to say Gossip Girl is back, baby!
3. Is the baby Dan's, and what the heck is Georgina up to?
Gossip Guy: Definitely not. And the day I figure out what Georgina is up to, I'll have figured out the world. I'll let you guys all know the meaning of life then too.
Mister Meester: No way Milo Dan's son, but a couple of things don't add up here. 1. Why would an ambivalent Dan be going along with this? 2. If Georgina's not after money - it's Dan! - what's her motivation then? Is she on the run from a Belorussian mobster whose son Milo really is and looking for a safe haven in Brooklyn? I'm kidding ... mostly.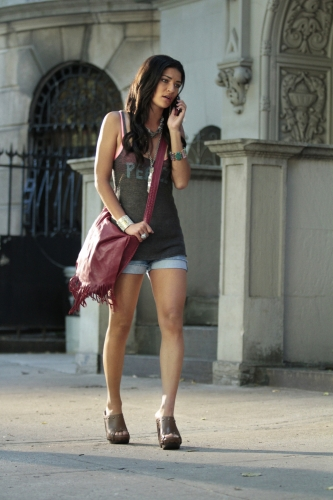 Vanessa earned some rare props from Gossip Guy this week.


4. What will happen when Chuck and Blair reunite?


Gossip Guy: I just don't feel like Hair is going to be a power couple until Chuck becomes himself again. You see what I did there? I'm so witty with couple names. Right Ballison?

Mister Meester: Because I've seen the episode, and am under threat of the CW not to reveal too much, I'll leave you with this: The scene is awesome, plain and simple. Ed Westwick and Leighton Meester are magic together. Blair tries to tell Chuck not to run from who he is, and while their future remains up in the air, her words clearly resonate with him.

5. Is Juliet Gossip Girl?!

Gossip Guy: This show has thrown us Gossip Girl red herrings before, but at least this time it's a girl. All the creepy clippings on the board? The blast being sent from the website? Everything's adding up except for the fact she doesn't look or sound like Kristen Bell. Those commercials for You Again featuring Bell during the episode didn't help sell Juliet either.

Mister Meester: I don't think so, but the two many be in cahoots. That scene were they revealed her at the computer was pretty cool, though. Talk about an intriguing lead-in to next week! As we will see next week (Gossip Girl spoiler alert), she's got a plan that involves trying to help Nate get Serena back. Although Juliet's motives and Nate's are quite different.

What do you think? Sound off in the comments!

Steve Marsi is the Managing Editor of TV Fanatic. Follow him on Google+ or email him here.

Tags: Gossip Girl, Round Tables