How I Met Your Mother Review: Black for a Day
by Chris O'Hara at .
After a Ted-heavy plot did a decent job opening the season, How I Met Your Mother went to their closer to make sure there was no second episode slump this week.
On "Cleaning House," Barney got the party started with his Bronx Zoo story of monkey business and then Robin asks if anyone watched The Deadliest Catch last night. Lily covers her ears and yells, "spoiler alert!" A slave to my DVR, I am always doing the same thing until I can get caught up on recent shows.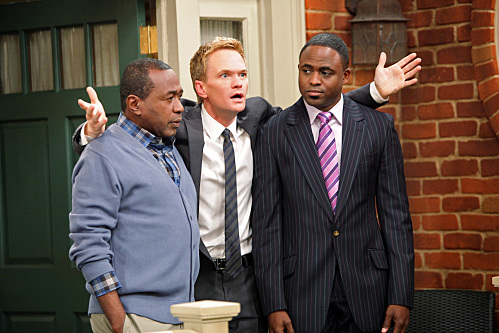 Ted lost me on the whole underselling of his Karate Kid analogy. No fan of the 1984 hit, let alone someone who claims it is one of the best movies ever, would refer to John Kreese as merely "the Cobra Kai Sensei." Great idea, poor execution Ted. Sort of like when Daniel Larusso tried the Crane kick against Chozen in Karate Kid Part 2 and got smacked down in the final fight scene before turning to the Drum Technique.

The banter between Ted and Robin though was great and Cobie Smulders was smoldering on screen once again.

Loved the attention to detail in Barney's childhood room. There was the Storm Trooper figurine next to the "Steve" helmet, matched nicely with the life-size Storm Trooper featured in his present day apartment.

I was shocked when Loretta mentioned Sloppy Joes four times and Marshall just stood there without taking one.  We soon see Lily and Marshal enjoying their manwich meal though while sandwiching Barney between themselves and James in the moving truck. My faith in the big softie from Minnesota was restored.

The tender reunion between James and Sam Gibbs (Ben Vereen) was heartfelt and well done. Wayne Brady isn't just "tall, dark and awesome." He's a talent. As they usually do, the writers doled out just enough emotion to pull at our heartstrings before smacking us upside the head with more hilarity. Per usual, it was Barney who provided the jolt.

Barney singing along with an over-the-top of James and Sam was truly legen…wait for it…dary.  The Fat Albert-esque voice he used when singing, "no I won't shed no tears," had me rolling.  Barney reminded me of Boone from Animal House when he sang along with Otis Day and the Knights at the Delta house.  "Otis, my man!"

Auto-tune Barney to close out the show was amazing and helped me try to forget the insanely creepy Snickers commercial, which aired during the previous break. The second episode of the season played to its strengths with a healthy helping of Barney sprinkled with the right amount of support from the other cast mates.

For me, the show has always been more about the interactions of the characters rather than a grand lead up to some big revelation. By not revealing who Barney's father is, tonight's episode showed us just how great a sitcom we have and how we don't necessarily need hints to future episodes to keep coming back for more.

** Review the funniest HIMYM quotes from the half hour now!

Tags: How I Met Your Mother, Reviews
From Around the Web