Terriers is a show about relatively small-time private investigators who often stumble upon big-time crimes.
Similarly, this week's episode ("Dog and Pony") proved that the series can excel in both small and large moments, creating quick jokes with the former and emotional pay-offs with the latter.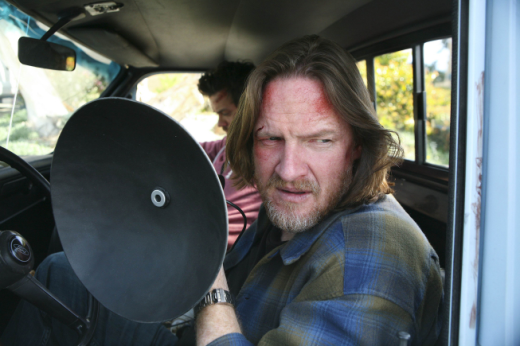 On the smaller moments front, the chemistry between the cast - especially stars and real life BFFs Donal Logue and Michael Raymond-James - was evident in humorous moments such as:
Britt flashing Katie a look when she sympathized with the big (big!) bad guy.
Britt asking Donal about his cure for blue balls, which elicited the immediate response: "Don't get married."
Really any scene between these two in the truck. I could watch them simply talk to each other for an hour.
But the episode also served as a showcase for Logue and his dramatic chops.

The way the conclusion depicted Hank's arrival at his former house, while simultaneously flashing back to he and Gretchen's original move-in, was brilliantly executed.

Logue is adept at delivering sarcastic one-liners (typically as a self-defense mechanism, such as when his sponsor called him "stupid" and he replied that he graduated fourth grade okay), he can also sell emotional moments for his character.

That's important in a series such as Terriers, which is really a study in Hank and Britt. Sure, these two solve crimes, but they aren't exactly saving the world here. Storylines may become more complex and something grander may eventually be at stake - but the first two episodes have given us a nice chance to simply spent time with these friends.

Episodes such as "Dog and Pony" give us insight into their pasts, their relationships, their personalities and more. From there, the show can build more interesting cases around a pair of well-established individuals. I'm very much on board. Are you?

Matt Richenthal is the Editor in Chief of TV Fanatic. Follow him on Twitter and on Google+.

Tags: Terriers, Reviews