The murderer of a close friend and mentor of Kono's did not stand a chance to escape when Five-O was on the case in "Ko'olauloa."
I don't know if the writers read these reviews or if I am just really in tune with the tweaks that need to be done to the show. But I recently mentioned that I was glad they explained where "Five-O" came from, although thought it was a bit clunky for it to be used instantly as a term.
Therefore, I am happy to say that this week it was not uttered once.  Also absent this week? The awkward and pointless medical examiner introduced on "Nalowale." No offense, Masi Oka.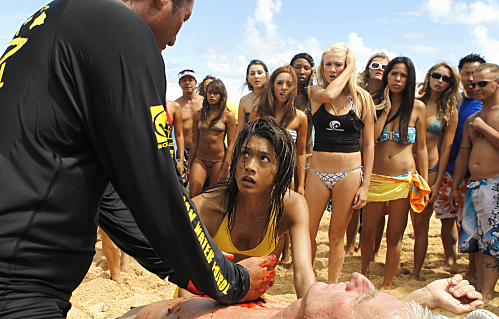 Not since the pilot, when Steve was chasing his dad's killer, has an episode been personal to someone in the group. This week, it was Kono who lost a mentor and friend to murder and I truly enjoyed how everyone pulled together to help find the killer and support her.

Between the titles of the episodes each week and references they make in the show, I feel like I am learning Hawaiian one word at a time. That's not a complaint. I think it's brilliant to mix in the Hawaiian heritage, culture, and language together as a light frosting on this most delicious cake that CBS has made.

This episode featured the Kupo, which I am guessing is a fictional group based on the Kupu (a conservation youth program) which valued island traditions and way of life. Regardless of fiction (or not), it added to the story and was not so outlandish that it was unbelievable. Every week the writers on this show remind me how good they really are.

However, by far my favorite scene in this episode was when Steve (yet again) tried to explain to Danny that "Book em,' Danno" was a term of endearment and Danny told him to go ahead and do it every day that he liked it. I had to back the episode up and rewatch that scene about three times just for the sheer joy on Steve's face after Danny agreed to let him say it.

Great stuff all around. What did you think?

Jim G. is a TV Fanatic Staff Writer. Follow him on Twitter.

Tags: Hawaii Five-0, Reviews