We talk almost every week about how NCIS: Los Angeles never disappoints. It's action-packed, with enough humorous lines and an attractive cast to give it a nice balance.
"Standoff" was true to form in all of those facets, but fell short in the writing department. While still enjoyable to watch, there was wasted potential that can't be ignored.
NCIS is, at its core, a character-driven show. NCIS: LA can't be expected to fill those shoes in one whole season, but last night's episode may have missed an opportunity.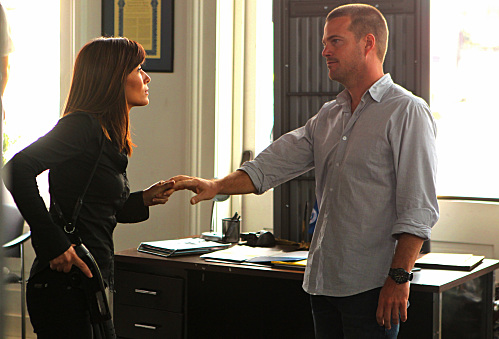 Callen's ex-wife really wasn't his ex-wife. This was disappointing.
We were introduced to the intriguing Tracey Keller after she holds a Navy Recruitment Office hostage. Who is she? "My ex-wife," Callen says, right before the first commercial break.
This could have made for some outstanding Callen back story, only it turns out they weren't actually married. As partners, they just went undercover as husband and wife at the CIA.
It was hard to care as much once this was revealed, and their falling out was never adequately explained. Leaving something to the imagination is a Shane Brennan staple, but this?
How cool would it be if Callen were actually married? So many more levels of his relationship with Tracey (played by the gorgeous Marisol Nichols) could have been explored. But alas.
This was hard for us to get past. How are we supposed to care about Callen's past with Tracey if we don't even understand why he cares so much? She put their "mission" over him?
Those of us who don't work for the Central Intelligence Agency may not understand the bond between partners, but come on, throw us a bone here. The whole thing was mishandled.
Chemistry between the two was palpable, but the plot failed to deliver a reason to get invested. After it was set up so compellingly, it's hard not to feel a bit let down by the episode.
That said, the case was intriguing as always, albeit with an ending twist we saw coming a mile away (not always the case with NCIS: LA and quite often not with the original NCIS).
Claiming she is working an undercover case for the FBI to stop an arms deal, but that several agents went rogue and got involved with the weapons deal, Tracey says she's a target.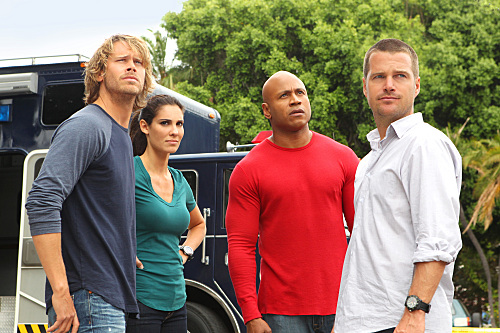 Arms dealers? Terrorists? Rogue federal agents? No match for these four.

The only one she can trust is Callen, who isn't sure if he can trust her. When a sniper outside the recruitment office tries to take her out, though, he realizes this is pretty serious.

FBI Agent White initially works with Sam to try and find the sniper, but surveillance cameras show he was the one to take the shot. So Tracey is telling the truth ... at least in part.

White and Tracey's former FBI partner (also found dead) were to meet with an international arms dealer, John Thomas Mason, to deliver SIM cards needed to activate stolen missiles.

Tracey meets White and ends up killing him - in self-defense, she claims - only to magically discover the time and place for the meeting on "his" cellphone. A little telegraphed there.

Callen and Tracey partner up, which again could have meant a whole lot more to viewers, to take down Mason and recover the missiles. Mason takes the bait and wires the cash.

However, after transferring the funds to an off-shore account, he learns the SIM cards are bogus and all hell breaks loose. Fortunately, the OSP team takes him out in a firefight.

Tracey begs Callen to let her go, but the predictable twist was that she was the recipient of the money and Eric tracked her to the Cayman Islands, where G and Sam bust her.

Not the best NCIS: Los Angeles is capable of for the aforementioned reasons, but not terrible TV either, and we remain hopeful for the future development of these characters.

What did you think of the episode? Tell us below.

Steve Marsi is the Managing Editor of TV Fanatic. Follow him on Google+ or email him here.

Tags: NCIS: Los Angeles, Reviews