If season one of The Good Wife was all about the show's characters, season two has been focused on intricate storylines involving these characters.
On "Cleaning House," viewers were treated to a major pay-off, as various early season set-ups (Peter's campaign, Cary's vengeance and Kalinda's feud) came together to give us a tense hour.
Filled with developments bound to have far-reaching consequences, the episode gave every character plenty to do and plenty to worry about. Let's go over everything we learned this week...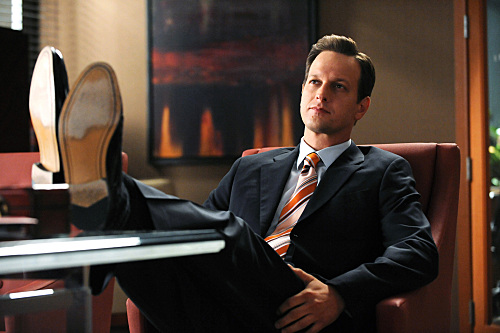 Peter and Childs have a new foe. I had a feeling we'd see more of Wendy Scott-Carr because she's played by Broadway star Anika Noni Rose. But I certainly didn't see her role as a third candidate coming. This could go in any number of directions, but let's hope one of them is more interactions between Peter and Childs. I love it when foes are forced to become reluctant friends, at least temporarily.

Also gotta love Wendy immediately mentioning her parents' middle class occupation in her opening remarks. Candidates painting themselves as regular folks, in order to appeal to those sick of politics, is reflective of real life elections, especially this year. Nice, subtle touch.

Will has dirt on Childs

... or does he? Were viewers supposed to know what Will was referring to when he threatened Cary and his boss at the deposition? Nothing comes to my mind, which just adds another level of intrigue. I'm glad the show has pushed the Will/Alicia romance way off to the side for a bit, but still gives us little nuggets such as him sticking up for her in this scene.

The Good Wife has great guest stars. They were out in full force this week, as Corbin Bleu portrayed Alicia's client; Mamie Gummer returned as Nancy Crozier (felt like there should have been one more scene between her and Alicia after their case was settled, didn't it?); Kate Burton returned as Judge Adler; and Elizabeth Reaser made her first appearance as a love interest for Will.

Kalinda has a major temper. This was by far my least favorite storyline. It made Kalinda look crazy, not tough. I'm all for some kind of feud with a rival private investigator - but he calls her by the wrong name? She smashes the windows of his car with a baseball bat? Carrie Underwood might be proud of Kalinda for the latter, but I'm disappointed in these middle school-like actions.

All around, though, a solid episode that planted a number of seeds for the season. Will Peter and Childs team up to take down Wendy? How far will Cary go in his quest for revenge? Will Diane get more involved with her mentor/rival, Judge Adler? Props to the show for bringing that feud back to the forefront, as Diane speaks well on women's rights and issues.

What did you think of "Cleaning House?"

Matt Richenthal is the Editor in Chief of TV Fanatic. Follow him on Twitter and on Google+.

Tags: The Good Wife, Reviews