The Good Wife set up a fascinating scenario and an interesting moral debate on "VIP Treatment."
It then let its characters off the hook by speeding through a cop-out of an ending. Wouldn't it have been riveting to watch Dianne suffer through an actual lawsuit against Joe Kent? Or to see how this Nobel Prize winner's endorsement of Peter would be affected by the latter's wife making Kent out to be a sexual deviant?
The show did a wonderful job setting these dilemmas up... only to drop them in a rushed final scene that didn't feel true to the accuser. She started the episode fully aware of the weight of her allegations. So what made her finally realize that she'd essentially be placed on trial if she pursued a lawsuit?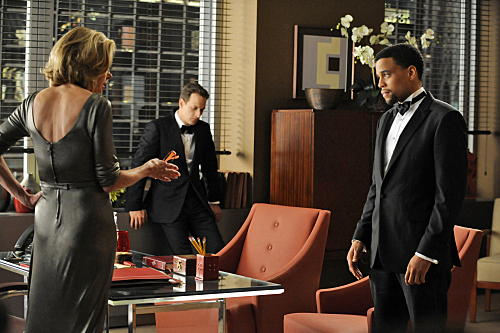 The only conclusion I can draw: the writers needed a way out of the corner they had boxed themselves into.

Up until these final moments, the episode was classic

The Good Wife

. It handled a complicated issue with intelligence and maturity, never needing to stop and explain why various individuals would react in various ways to the possibility of Kent on trial.

Diane was disgusted by it, Eli delighted by a possible endorsement, Bond and Will focused on the bottom line for the firm. All these reactions rang true to the characters the show has established so well. I also loved that Cary recommended his former company to the masseuse, seemingly without an ulterior motive, considering her story was valid.

He's not a bad person. He's just an understandably bitter man and a very good lawyer.

We can't say the same for Blake just yet. The series is painting him as a slimy investigator, as he took no care whatsoever in making his break-in of Lara's apartment clean or subtle. He actually went out of his way to create a mess. It would be nice to give this character some depth, as opposed to just making him the anti-Kalinda.

It was also fun to watch Peter act like spurned high school boyfriend, unable to resist cycling through Alicia's phone. Could anyone out there have possessed the willpower to leave Will's messages alone? The romance between Will and Alicia has been placed in the background this season, but it looks like Peter may drag it back up.

For about 99% of this installment, I was riveted and excited to see how the case would play out. I was then disappointed by the climax. But it does say a lot about the quality of this drama that it could create such a situation that I'd be letdown by not having it play out longer.

What did everyone else think?

Matt Richenthal is the Editor in Chief of TV Fanatic. Follow him on Twitter and on Google+.

Tags: The Good Wife, Reviews