How I Met Your Mother's Thanksgiving episode was for the birds - and I'm not talking about a "Tuturkeykey."
Jorge Garcia tried valiantly to make a memorable guest appearance, dropping gems such as Kraft and Croft night and double rainbows. Unfortunately, little worked.
The Lost references, like the use of the infamous numbers (4, 8,15,16,23, and 42), fell short and lacked punch, much like the nod to Ferris Bueller's Day Off, which followed the gang getting stuck in the Thanksgiving Day Parade.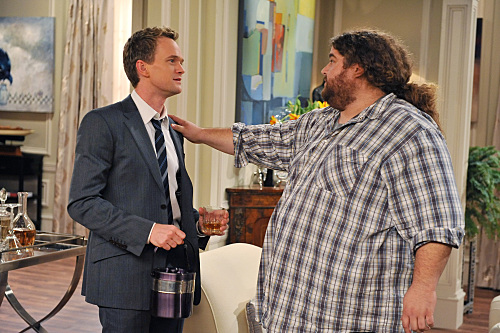 To makes matters worse, Zoey was back. Ah, man!
There were a few moments worth noting, though:
Barney in the back of the cab as he tried to pronounce his driver's name, "Babbaka."
Robin falling for Wang Guy based solely on a picture of his "junk."
Barney, completely out of context and clearly agitated, admitting to sleeping with the "hot Indian girl" who cut his hair simply because he had forgotten to brag about it earlier.
The main question of the episode - can enemies ever be friends? - was a good one. It was no doubt a nod to Ted and Zoey getting together, but was this surprising to anyone? Zoey is unhappy in her marriage; not exactly a news flash, right? I mean, they shot Kennedy, too. The show's creators used a typically festive and hilarious episode to weave their silly web of Ted's wife a little further. What happened to Slapgsiving? I guess Marshall just put tradition on hold for a year?
As I watched yet another disappointing holiday episode (See "Canning Randy"), I'm sure I missed some legendary television moment on another channel. While I ended up feeling like I was the Blitz, I fear our beloved show might find itself sacked if it keeps dishing out stuffing like this week's episode.

The best part of Thanksgiving is leftovers, and while I won't be going back for seconds of this episode anytime soon, there were a few tasty quotes to give thanks for and revisit:
Ted: Who canceled, your coven?
Steve: Coven, group of witches, boom! | permalink
Zoey: Barney was here? I was walking around half naked.
Barney: Aw Man! Wait which half? | permalink
Lily: It's a booma-wang.
Robin: Nice,
Lily: Thanks.
Robin: No I meant the wang. | permalink
Barney: Robin! Robin! I will pay you to be the Blitz. A hundred dollars, no! Ten thousand dollars, no! Sixty bucks. What's a lot of money to someone like you? | permalink
Robin: I think the smaller turkey just tried to crawl further inside the bigger turkey. | permalink
Tags: How I Met Your Mother, Reviews
Want more How I Met Your Mother?
Sign up for our daily newsletter and receive the latest tv news delivered to your inbox for free!